NARROW ESCAPE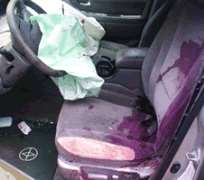 Bloodstained car seat
A Lagos-based lawyer, George Onwubuya, who was rescued from the hands of some bandits who abducted him from his residence, will not forget that fateful day in a hurry. Neither will the residents of Anthony village, Lagos forget the deafening shout of 'pr-a-i-s-e G-o-d!' which rent the air immediately he was freed from the 'jaws of the lions,' who had laid ambush for him near his house.
Onwubuya was said to have driven his vehicle, Toyota Avalon, into his premises before three armed men forced their way into his compound and quickly closed the gate. The intruders, we later gathered, pulled their guns, pointed them at the victim and ordered him to get out of the vehicle.
As he alighted, they ordered him back into it and asked him to sit on the back seat and was sandwiched by two bandits. One of the sons of the devil took over the steering, while another one alighted from the vehicle to close the gate before they drove off. Unknown to the abductors, a security man working opposite the compound sighted them and quickly alerted the Divisional Police Officer(DPO) in-charge of Anthony Village police station, Mr. Raji Adeola, a Superintendent.
The officer was said to have mobilized his men and rushed to the scene of the incident.
The four operatives, who went there on two motorcycles confronted the bandits but the one behind the wheel sped off, while another one escaped.
The policemen were said to have shot the one on steering and he lost control and fell into a ditch. The car was said to have security door which the bandits found difficult to open in the midst of the confusion.
And when they discovered that their game was up, they dropped their weapons and started shivering.
'The other hoodlum beside me, who became jittery asked me to tell the police lies. He said I should tell them that he was my boy and I greed.'
By that time, the DPO and his men had surrounded the vehicle, they later opened it and I rushed out and praised God,' he said. Narrating further his ordeal in the hands of the armed men, the victim explained that when they forced him into the vehicle, they promised not to harm him, provided he cooperated with them.
'I was still afraid because there is a thin line between sanity and insanity,' Onwubuya said. The victim commended the police, especially, the Anthony Village police Division for their efforts at trying to rid the area of crimes.
Daily Sun gathered that two of the bandits were shot dead, while the police recovered two guns and six bullets. It could not be confirmed immediately, if it was a case of armed robbery or kidnap, as the police were still investigating the matter at the Press time.