New York-Based Nigerian designer Washington Robert's Fall/Winter 2010 Collection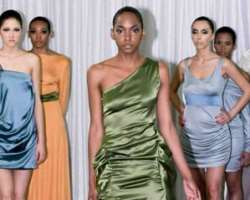 Nigerian designer Washington Roberts picked up his interest in design and cloth making from his seamstress grandmother who raised him.
The Igbobi College, Yaba graduate presents his Autumn/Winter 2010 collection which was inspired by images of beach rocks, hence the mute color tone.
The silhouettes are modern and you can see he is not trying to hard to create some uber glam piece, he's just focused on his inspiration and even the draping is akin to the layers of rocks on the beach. When you look at the entire collection and the inspiration behind it, you see a creative whose work is not lost in translation from the conception stage up to the production.
He's also very quick to point out that the entire crafting of the collection was done by him and it's a good selling point in an industry where very few designers actually do the crafting themselves.
View collection below: