Allison-Madueke Receives Harmonised Cash Call Budget for Gas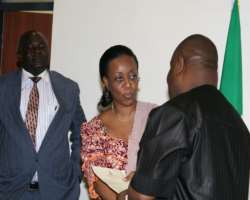 ABUJA, July 07, (THEWILL) - The harmonized version of the 2010 cash call budget for projects in the gas sector has been presented to the Minister of Petroleum Resources, Mrs. Diezani Allison-Madueke.

The Chairman of the National Assembly Joint Committee on Gas, Senator Osita Izunaso made the presentation Tuesday at an interactive session with leaders of the Petroleum Ministry and the Nigerian National Petroleum Corporation, NNPC.

The Minister who was called upon to update the Joint Committee on the activities of her ministry with regard to the gas sector explained that a number of landmark achievements had been recorded.

She listed the achievements to include the setting up a commercial framework for gas to power which has culminated in the approval of a new gas pricing, the signing of a Gas Supply and Purchase Agreement between NNPC/Pan-Ocean joint venture and Egbin Power Station, and the World Bank Guarantee secured for gas to power projects.

She further disclosed that discussions were at an advanced stage with some international big players in the gas sector to come into the country to build gas based industries like fertilizer and petrochemical plants.

On the implementation of the Gas Master Plan, she said work was at an advanced stage in the process of selecting the franchise companies that would build central processing facilities in the various gas zones in the country, adding that in the next few weeks, winners of the franchise tender will be named.

Reacting to a question on the impact of the new gas pricing on the manufacturing sector which had already been complaining about the high price of gas, Allison-Madueke explained that the approved gas pricing was only for gas to power, and that a new gas pricing regime was being worked out for the manufacturing sector.

Senator Izunaso commended her for the prompt manner she resolved the gas to power issue through the introduction of the new gas pricing regime, adding that he has received a lot of calls from stakeholders hailing the move.

He, however, expressed disappointment that the Minister was not able to get the executive arm of government to exempt the Petroleum Ministry from the proposed 40% budget cut, a situation he said could affect the implementation of key projects.