DANGOTE NOODLE DIFFERENTIATES AS IT UNVEILS 3 TVCs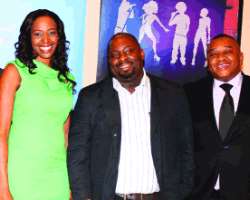 L-R: Martins, Segun Fayose, Head of Corporate Communications, MultiChoice Nigeria; Alabi, Obi Asika, CEO Storm 360; and Adibua, at the launch of Naija Sings Season Two in Lagos on Friday
Noodles segment of the fast moving consumer goods (FMCG) industry in Nigeria a few days ago witnessed an intense campaign following Dangote Noodles song of differentiation as it unveiled three set of television commercials to be aired pan-Nigeria.
Launched officially on October 22, 2009 with unprecedented investment of new factory and distribution fleet at a milestone event that went into the book history in the country's FMCG industry, Dangote Noodles has finally unveiled plans to confront competition and improve on its target market.
To further redefine its position and enforce commitment to consumers, Dangote Noodles on Thursday last week launched series of television commercials, which would be supported by outdoor campaign anchored by Taxi Ads.
Harping on the brand salient differentiation, market context and brand equity, Rohit Chaudhry, MD/CEO, Dangote Flour Mills Plc, stated that the new thematic TVC materials will herald the presence of the brand-Dangote Noodles in Nigeria and beyond.
He said, 'The materials are targeted to relate with the entire family because Dangote Noodles provides wholesome nourishment for the entire segment of its target audience, whilst the TVCs are to generate excitement around the brand and target audience.'
Dangote Noodles, which is the first noodles brand in Nigeria to come out with the real chicken flavour, produces 100 per cent with local raw materials inputs, fortified with minerals and vitamins and uniquely packaged with metalized film to ensure longer shelf life.
On some of the differentiating factors of Dangote Noodles, Chaudhry said: 'As you aware, Dangote Noodles comes in three variants-instant noodles, ready-to-eat and snacks, the widest range in the market. Instant noodles is available in 70gramms and new 130grms popularly known as mega, and the unique snappy pop which comes in strip + triangle format,' adding that Dangote Noodles is positioned for all social strata ranging from children to young adults and adults.'
The new ready-to-eat and snacks has been introduced to trace noodles' loving Nigerians to the street particularly on traffic across major cities in Nigeria.
'With research, we found that some manufacturers produce noodles with various flavours. We decided to offer a unique formula customised to Nigerian taste and palettes. It is fortified with various minerals and vitamins such as iron, calcium, vitamins A, E, B and the only noodles brand in the country that soups its noodles with natural chicken extract.'
Good customer relationship, which the consummate marketing referred to as customer intimacy is also identified as key to the brand's wider acceptability in the market particularly amongst distributors.
The TVCs, which come in three formats is created by Azzagai, Yinka Daramola's-led Ikeja GRA-based agency. According to the creative team, the strategy and concept of the TVC is hinged on revolutionary, dynamism, innovation, progression, youthfulness and contemporary.
The TVC, which came in full length and cut down are tagged: What is Cooking?, Chicken By Nature-animated and Natural World.
What is cooking is a TVC focusing on appealing to the family woman who is always looking for a way to satisfy the insatiable appetite of her family members.
Chicken by Nature TVC campaign is a concept that is born out of trend and nostalgic while Natural World's TVC showcases the brand unique attributes and differentiations.
However, the company disclosed that the plan to reach the nooks and crannies of the country and west African market is underway as the local language version of the commercials back with engagement marketing exercise would be unveil soon.