TUNISIA TO JAIL SICK JOURNALIST FAHEM BOUKADOUS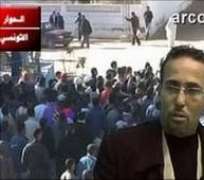 An appeals court in Tunisia has upheld a prison sentence for a journalist who had covered violent protests in the Gafsa mining region in 2008.
Fahem Boukadous had been handed a four-year jail term for reporting information deemed to threaten public order and for belonging to a criminal association.
His lawyer says Boukadous is currently in hospital with breathing problems.
Three Tunisian journalists have been jailed in the past year.
Media freedom lobby group the Committee to Protect Journalists (CPJ) has condemned the court's decision, saying Boukadous was being punished for "reporting the news".
The CPJ said Boukadous, who worked for a satellite TV channel, was being prosecuted for reporting the 2008 protests over unemployment, high cost of living and corruption.
His lawyer Mohamed Abbou said he feared Boukadous could be arrested in hospital "at any moment".
He has said he fears a "transfer to prison would mean my death", reports the AFP news agency.