Nigerian Law Student, Oluwadamilola Akintewe Wins Samantha Singh Award For Young People Aspiring To Careers In Development Policy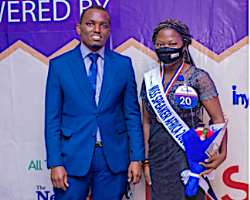 Most times, all we need is to give room for young people to air their opinions and to contribute to development. This is what Samantha Singh Award for young people aspiring to careers in development policy stands for. This award was created by ONE in 2020. ONE is a global movement campaigning to end extreme poverty and preventable disease by 2030, so that everyone, everywhere can lead a life of dignity and opportunity with a strong believe that the fight against poverty isn't about charity, but about justice and equality (www.one.org)
The inaugural award created in memory of Samantha Singh, a policy development expert was won by 21 year old Nigerian law student, Oluwadamilola Akintewe.
Her award winning essay answered the question: What are the most urgent steps African governments and the international community should take to avoid a 'lost decade' in the wake of COVID-19?
Oluwadamilola in her response said "We must be able look beyond our differences and weaknesses as countries so that we can tell better tales at the end of this delicate decade. And as we count our losses, we must do so in love, in oneness, and togetherness as we jointly face the future."
Mr David McNair, the Executive Director of Global policy at ONE opined that Oluwadamilola Akintewe's essay captured the essence of the need to have more young people at the table to bring in fresh perspectives, ideas and solutions to global issues.
The essay can be accessed here
https://www.one.org/international/blog/sam-singh-award-essay/
A law student and social entrepreneur, Oluwadamilola has been active for over three years advocating for social equality and against injustices especially to women. She is a strong advocate for women's rights from an intersectional feminism point of view. She leads a team of students social entrepreneurs like herself in Enactus, a global community of students and professionals who uses entrepreneurship to impact lives. She also runs a video blog called Forbidden Topics to break the silence on social issues and amplify female voices against laws and conventions that affects the sexual reproductive health and rights of women globally.
This is however not her first hurrah at international recognitions. She represented Nigeria at the continental Miss Career Africa 2020 competition in Rwanda where she carted away the Miss Speaker Africa 2020 title and was recognised by Ford Fund as a "Community Impact Fellow".
She was also recently recognised as one of the top 100 women creating a better Africa with the likes of Okonjo-Iweala, Chimamanda Adichie and others.
Oluwadamilola Akintewe is a strong believer in youth participation in policy making and development processes and also intend to focus on postgraduate studies in such field. She believes that no nation can reach it's fullest potentials if their youths are not empowered to lead.