Jonathan Counsels Army against Ethno-Religious Sentiments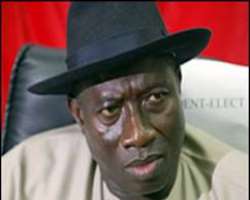 Goodluck Jonathan
President Goodluck Jonathan, tuesday said that ethno-religious bigotry in the force could compromise its integrity and virtues as well as endanger the nation's democracy if not checked.
Jonathan who spoke at the Army Day celebration said: "In defending the peace today, we are faced with new challenges as exemplified in skirmishes within the nation.
"We must remember that some of the greatest dangers to our democracy and freedom are shrouded in the perils of ethnicity and religious intolerance.
"These evils threaten our very existence as one sovereign and indivisible nation."
He admonished the topmost hierarchy of the Nigerian army to "discourage such sentiments and encourage our men to see each other as brothers in the pursuit of a common destiny."
Jonathan commended the army for its loyalty and subordination to civil authority.He pledged that the Federal Government would do more to improve the welfare of its officers and men. Besides, he enjoined the Armed Forces in general to continue to "maintain the high level of professionalism, which has earned Nigeria a good name and enhanced status in the International community."
According to him, "With the high expectation from African nations in peacekeeping, Nigeria remains committed to international security and will continue to work in close collaboration with these nations to promote peace, stability and development on the African continent and in the globe."Jonathan used the occasion to task the Armed Forces on the need to be alive to their responsibility of forestalling any breach to the nation's territorial integrity at all times.
He said they must be vigilant and alert to support the Police in maintaining peace at any time they were called upon. He assured that government would, on its part, build on the peace efforts of the late President Umaru Musa Yar'Adua in the Niger Delta region by providing infrastructure development.
The President therefore called on the Armed Forces to "guard against economic saboteurs and their international collaborators who constantly plot to deny the nation of her resources and heritage." On the occasion, he presented 14 Distinguished Post Service Medals to awardees comprising seven retired and seven serving soldiers.
Among those honoured were the Sultan of Sokoto, His Eminence, Alhaji Sa'ad Abubakar; the Primate of the Anglican Communion in Nigeria, Primate Nicholas Okoh; and Maj-Gen Ishola Williams (rtd). Thereafter, he commissioned the Nigerian Army Headquarters Command Officers' Mess in Asokoro District.
The Chief of Army Staff, Lt-Gen. Abdulrahman Dambazau, had in his remarks, commended the President for his "deep commitment" to the efficiency and professionalism of the Nigerian Army and the Armed Forces in general. He pledged the unalloyed loyalty of the Nigerian Army to him and the Nigerian people at the event, which highlights included the presentation of the Chief of Army Staff (COAS