DOLLY UNACHUKWU: AN ACTRESS IN LIMBO?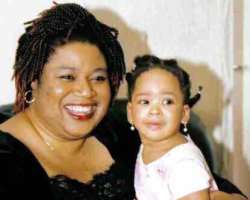 Dolly
Do you still remember the name, Dolly Unachukwu? Yes, she was one of the pioneers of Nollywood. A gifted actress who captured the hearts of her audience with her role in the prime time soap opera, Mirror in the Sun as Prisca.
However, her role as 'Fadeke', the subdued wife of a millionaire, an ideal Nigerian woman, in Fortunes was the opener to several other doors for the light-skinned actress. The climax of her acting career in Nollywood was in the controversial film, Glamour Girls where she took up the character of a mean pimp.
Dolly became the sweetheart of the screen when she began starring as Peaceful Peace, in the popular T V comedy series, Fuji House of Commotion.
It was her last act when she disappeared from the scene. Since then, nothing has been heard of Dolly.
For the Anambra state-born actress, her true life story is as intriguing as the roles she played on the screen. Dolly would later capture her own story in a film, titled Wildest Dream in 1997 but not without sacrifice.
In the film, she narrated the ordeal of her first marriage, which crashed in 1994 leaving her a single parent. Her estranged husband would later threaten to sue her for using his real name in the film. The product of the failed marriage is a boy.
Just like every other woman, the desire to have a man she could call her own proved irresistible for the actress. Although, there is no trophy for failed relationships, Dolly Unachukwu got a fair share of bad ones.
Her second marriage in 2000 left her more devastating than ever. Dolly moved in the same year to join her husband in England but the mild drama at the airport was the only proof she needed to take a decision. Dolly Unachukwu's separation from her new husband right at the airport would come when she realized that he hadn't been truthful to her, after all. This pill was too bitter for her to swallow.
So, where is she now?
Still in England, hers is a life of an actress missing in action. Unachukwu who has melted into the quiet, conservative life in London had to move on after that sad episode. Returning to school for a three year degree course in Films and Videos at the East London University Docklands, the pretty woman would again take a shot at motherhood. She had a baby girl in 2004 but stayed off for two years to nurture the new addition, graduating in 2008.
The once-upon-a-time-queen of Nollywood who could not break into the tight British film industry, close family sources say had to settle for life without fanfare. Now, sitting in limbo just bidding for time, Dolly would have liked to return to Nigeria, perhaps, to attempt continuing from where she stopped but for her little girl to grow up. Leaving her in a strange land for now is not an option the single parent wants to take
Before she moved to settle in London, Dolly Unachukwu had attended the Television College Jos in Plateau State, where she received a diploma in Television Production in 1988. She later went on to study phonetics in 1989 at the FRCN Training school Lagos and then went to the Lagos State University in 1990 and earned a diploma in Law.
The single mother of two, Odera, 15 and Hazel, 5 who was one of the first few Nollywood actresses to relocate to the Queens land desperately longs to return to her home country which gave her fame and fortune.