NAFDAC AXES 20 FAST FOOD OUTLETS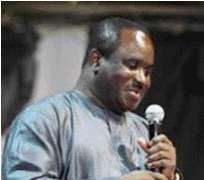 Dr Orhii
The National Agency for Food and Drug Administration and Control (NAFDAC) has sanctioned more than 20 Quick Service Restuarants (QSR) in the country in the last eighteen months. Disclosing this during the National Workshop for Fast Food Operators at Airport Hotel, Ikeja, Director-General of NAFDAC, Dr Paul Orhii said that it may not possible to completely eradicated food contamination in fast foods outlets, but the present unsatisfactory situation in most outlets is unacceptable.
He therefore called on Fast Food Operators to ensure that good hygiene practice is practiced and satisfactory at all times to guarantee the safety of food served to numerous customers.
He spoke on this and related issues. Excerpts:
NAFDAC's activities concerning QSR operators
NAFDAC has sanctioned more than 20 Quick Service Restuarants (QSR) in the country in the last eighteen months. It may not be possible to completely eradicate food contamination in fast foods outlets, but the present unsatisfactory situation in most outlets is unacceptable. I, therefore call on you to ensure that your good hygienic practice is practiced and satisfactory at all times to guaranteed the safety of food you serve your numerous customers.
You have to be sure of the source of your ingredients and maintain a controlled supply chain, especially those that may be eaten raw eg salads and fruits. Dispose or discard expired products or contaminated food ingredients in your restaurants. Good hygiene practices should be maintained and no left-over food should be sold the following day.
Any QSR found to be using expired products would be closed down and severely sanctioned, while a second offender will be prosecuted. For those who uphold best hygiene practices, we will continue to support and encourage you.
Unsafe food
Unsafe food as a human health problem dates far back in history and so many food problems encountered today are not new. The occurrence of food borne disease remains a significant health issue in developed and developing countries despite the efforts Governments, all over the world, are making effort to improve the safety of the food supply chain. It has been estimated that 1.8 million people die annually due to diarrhoeal diseases, most of which are attributed to contaminated food or water. More than 200 known diseases are transmitted through food. Food-borne diseases have become a public health problem globally which has led to reduced economic productivity in addition to increased morbidity and mortality. Proper sourcing of food ingredients, food preparation and handling therefore can prevent major food-borne illnesses.
Safe Food Preparation in Quick Service Restaurants
Quick Service Restaurants (QSRs) or 'Fast Food Restaurants' as they are commonly known, have come to occupy a vital place in urban nutrition as they are perceived to be the right food, for the right price, at the right time and in the right place. Due to the increased rate of urbanization in Nigeria, there has been a proliferation of Quick Service Restaurants within the last ten years. Food prepared at your outlets are daily patronized by thousands of skilled and unskilled workers, professionals, students, school children and even market women and men for at least one meal a day in most cities. We have had a few cases of contamination, hence the need to have this workshop to remind you of your responsibilities on ready-to-eat foods, coming out of your kitchens which must be made safe for human consumption.
Remember also, that, in addition to practicing Good Hygienic Practices (GHP), source your ingredients properly and ensure that critical vehicles like flour, sugar and vegetable oil are those fortified with vitamin A, and only use salt that is iodized. Do not buy 50Kg salt because that is for use in tanneries only.
We know that fast food can be delicious and convenient, but it may be prepared in such a manner that it may contain high levels of food condiments such as salt and seasoning. It may not have the right nutritious value or may be contaminated, if prepared with contaminated ingredients or under unhygienic conditions. All these have health implications and could give rise to consumer complaint and or ill health. NAFDAC has recently been 'inundated with a lot of complaints from the consuming public about gastrointestinal problems, excessive use of salt and seasoning in food preparation, and in at least 2 cases, fatalities traced to pesticide residues in the foods.
Those that manage and prepare ready-to-eat foods have the responsibility to ensure that they do not endanger the lives of consumers who buy and eat their food. In general, your part in food safety includes, protecting food from contamination or anything that could cause harm; keeping yourself and all staff and workplace clean; observing good hygienic practices such as washing your hands before handling food, good toilet habits and so on; identifying and reducing or eliminating food safety hazards, following the rules for food safety in your organization and working with care; sourcing your ingredients from reputable suppliers; good storage practices and using only fortified or vitamin enriched flour, sugar and vegetable oil; etc.
The Quick Service Restaurants have a central role to play in safeguarding public health by practicing Good Hygienic Practices (GHP) and Assured Safe Catering (ASC) practices during food preparation and handling that would assure safe and nutritious food for the consumer. My staff will deliberate extensively today on these aspects, so that you will get a better understanding of the subject, and begin to apply them.
The World Health Organization (WHO) has developed a global food hygiene message with five key steps to safer food. The message explains safe food handling and preparation practices. There is also the Assured Safe Catering (ASC) practices which is a system developed for caterers to control food safety problems. It is based on the principles of Hazard Analysis and Critical Control Points (HACCP) system used in food manufacturing facilities. These documents are very useful for the practices of the Quick Service Restaurants (QSRs).
While many experts agree that it is not possible to totally prevent food contamination despite the sophistication in food preparation equipment and processes, most believe that beefing up the oversight function of regulatory bodies could contain the situation. With hundreds of QSRs in the country it will require a multifaceted approach to. see the required change and improvements. While NAFDAC provides oversight on the QSRs, the Ministry of Agriculture could look at the aspect of Good Agricultural Practices (GAP) and Good Collection Practices (GCP) to avoid possible contamination from source and suppliers.
To prevent hygiene problems and food poisoning incidents, the QSR food industry should I be proactive. It is therefore expedient that all personnel involved in food preparation and service business be properly trained to enable them understand that the operations they carry out are of public health significance. This has informed NAFDAC's decision to organize this workshop and assemble a crop of experts to present papers covering topics such as legislations, food safety management, cleaning of equipment and environment, health implications of excessive use of food condiments such as salt and seasoning, consumer complaints and post preparation and consumption monitoring systems.