"Don't include Bakassi in your madness"- BNL tells Niger Delta groups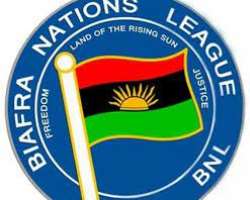 The Paramilitary wing of Biafra Nations League, BNL has responded to groups in the Niger Delta who has rejected Biafra in response to Dokubo Asari's declaration of Biafra De Facto Customary Government. Speaking to newsmen in Bakassi Peninsula on Wednesday, the commander of operations. aka "Asorock Commander", warned groups in the Niger Delta not to drag Bakassi Peninsula to their divisive agitations, questioning where was Niger Deltans when Former President Olusegun Obasanjo handed Bakassi to Cameroon. The BNL Militia recounted how many times the Bakassi people has been betrayed by the Ijaws who claimed they're fighting for Niger Delta, adding that the people of the Peninsula are fully in support of a breakaway state of Biafra where Bakassi will be a state of it's own.
The operational commander who is the 3rd commander of the Bakassi Strike Force recalled how his brother Benjamin Simply warned the Niger Delta Avengers to stay clear from Bakassi because they are decisive people and not to be dragged into any fruitless activities. He hinted that they're fully backing the Biafran struggle because of the consultation of their people by the leadership of BNL.
Also, Deputy National Leader of BNL, Ebuta Akor Takon gave reasons why BNL distanced itself from the Biafra De Facto Customary Government. He said every tribe has a socio-cultural union which serve as their customary government, adding that Biafra does not need a customary government but an interim government.