Exclusive! What PDP Learnt While Campaigning In Delta State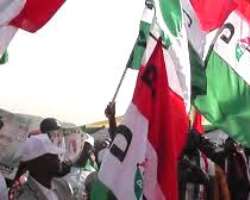 For political campaigns to have far-reaching effect there's need for proper documentation of what was said, by who, where and when.
Thus, covering politics should not be limited to informing the masses about what politicians are doing but creating a thriving template for institutionalised review of developmental issues bedeviling a people.
Most times, people complain that those they elected abandoned them totally without any project or empowerment to show for their election. But, complaining that politicians deliver below expectations changes nothing. The barrier breaker is the acceptance of a settled factuality: the people seldom strike a deal with their representatives in government. They just vote and go back home!
It's the responsibility of citizens to point out everything that is of concern to their community and hand it over to elected public servants who will work towards ensuring that most of the demands are met.
So, leaders are presupposed to work tenaciously on agendas set by their followers ( those who elected them into office). Consequently, a clear-cut demand (neatly penned down) is a catalyst for performance in administration.
A leader who doesn't know what his people want is doomed, albeit he or she did much.
These and more were the findings scooped from grassroot visitations embarked by the People's Democratic Party (PDP) in Delta State in its attempt to remain compatible with the electorates.
Spearheaded by Ward Committee members preparatory to the March 6 LG elections, the council offered the party ample opportunity to know how residents from different chapters feel about government.
Ubulu-uku had it's fair share of the party's campaign probably because Aniocha South Chairman elect, Pastor Jude Chukwunwike is from the town.
In this report AUGUSTINE NWAOBI who covered the visitations, summarily puts together every bit of concepts given to the party by chapter residents that spoke on behalf of respective communities. For the purpose of documentation and leadership assessment, the writing of this article became indispensable.
No one should be left out
At Idimu Osume 1&2, Hon. Solomon Ojeh said that PDP brought a lot of benefits to the people of Ubulu-uku and Idimu Osume in particular. "with the achievements of the Governor Ifeanyi led administration and the effort of the campaign council the LG elections will come favourable as residents are happy with the party", the former Counselor said adding that campaign should be taken to the interior parts of every community so that no one is left out.
With a savour in his voice, Mr Okey Osakwe said that he will defend the course of the party in the community. "As opinion leaders in this community my parents never believed in lies; they spoke only the truth and stood up for it at all time. So I am saying it publicly that this community belongs to PDP"
Selfless approach
A physically challenged man in his mid 60s called the party's candidates to adopt selflessness when elected into office. "The situation where you have to think of satisfying members of your family before addressing issues affecting the general public is not acceptable. We need a selfless approach that seeks collective development as against individual success", he said bluntly.
Sense of belonging
At Enugwu-Iyi, a man identified as Nelly while speaking on behalf of the community urged the party to be steadfast in ensuring that residents are remembered for appointments.
"It is disheartening to know that despite the support that youths from this community had given to the party we are still not considered for appointments in government. We have never failed the PDP and will never fail; all that we are asking for is to be carried along after the election. Let our people enjoy the benefits of their sincere support. After this election, everyone in this community needs a sense of belonging ".
List of wants
Addressing the points raised party LGA Secretary, Hon. Chukwuma Dibia advised the people to write out what they want from the candidates as a guide into the future.
His words, "the campaign team of our great party is here because we respect and value the people of Enugwu-Iyi. Everything said will be taken into consideration but you will do one thing for us: write down a list of those things that you want our candidates to do for you when elected. We can assure you that if you write 5 important things, before the end of their administrations at least 3 would have been done", Hon Chukwuma assured.
Best candidates represent people's choice
At Idumubo quarters, Mr Paul Ojianwuna reaffirmed the importance of fielding the best candidates for elections.
"The PDP got it right by presenting candidates with trusted abilities. When you get the best you forget the rest. The best candidates represent the people's choice. Because our people have interest in quality they have decided that they are going to give PDP 100% vote", he said.
Similarly at Udo 1&2, Mr Banwuna went down memory lane to dig up experiences of honour he had while working as a civil servant. "Before I got my retirement l had several experiences that made me realize that Pastor Jude Chukwunwike puts the people first in all his dealings. Having a man like that as Chairman, I know that Aniocha South will be in good hands".
Speaking for the youths, a man identified as giant said that Ubulu-uku is blessed to have brilliant youths emerge from the PDP. He noted that every youth is queuing right behind the party's candidates to give them vote and support.
Comrade Jones Ofune from Ogbego thanked the PDP for exercising brilliance in its choice of candidates while urging the people to stand firmly in support of the party.
The society belongs to youths
The hallmark of it was the rally at Abuedo 1,2,3 where people trooped in support for the candidates. Youth bodies couldn't hide their pleasure as they believe that the youths are gradually gaining grounds as far as politics is concerned.
The older folks also laughed with the assurance that having a good leader their needs will be squarely met. They presumed that it's better to support the young persons because the future belongs to youths and the society is theirs.
Capping the campaign was the soothen words of Pastor Jude Chukwunwike.
JC had pledged to remain a servant leader who will treat everyone equally. He vowed to run an open door style of government where ideas to move Aniocha South forward will be welcomed without bias.