The Place Called Nigeria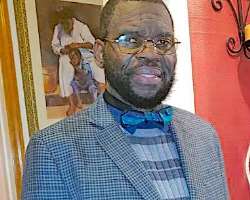 Prof. John Egbeazien Oshodi
Amid our current geo-ethnic and religious-political realities, it is my psychological submission that already, our existence is in a solidified form of two groupings which in turns defines national power in the society. We are already in coexistence mainly on physical grounds and certainly not on psychological, mental, emotional, psychic, and spiritual grounds.
Therefore, let's just tell it like it is psychologically and philosophically.
Dr Mike Ozekhome, a legal philosopher, scholar and practitioner in law, civil rights/constitutional law especially, once opines what he called "Airegin". Actually, it is the linguistic opposite of " Nigeria"
Currently and for many years, half of the people have longed planted themselves as "One Nigeria" while others on categorical psychological and behavioral grounds don't see themselves, as part of "Nigeria"
On psychological grounds, those of non-Northern regions, collectively can as well say they are under "Airegin"
When the two opposites state of nationalism turns from psychological existence to physical permanency is not up to me pragmatically.
Look around you in terms of national names supremacy and power fundamentals, you will see: Nigeria vs. Airegin.
Time will tell!
Prof John Egbeazien Oshodi
Founder of Psychoafricalytic Psychology
[email protected]
Disclaimer:

"The views/contents expressed in this article are the sole responsibility of the author(s) and do not necessarily reflect those of The Nigerian Voice. The Nigerian Voice will not be responsible or liable for any inaccurate or incorrect statements contained in this article."