Justice Sylvester Ngwuta Is Dead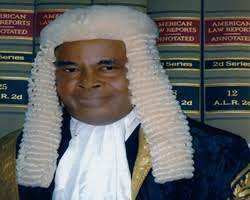 Late Justice Sylvester Ngwuta
A justice of the Supreme Court of Nigeria, Justice Sylvester Ngwuta has passed on this Sunday morning from undisclosed illness.
According to the spokesperson of the supreme court, Ahuraka Isah, Ngwuta had been ill for some time but the illness took a turn for the worse on Thursday and was subsequently taken to the intensive care unit. He tested negative for COVID-19, the Spokesman revealed.
Recall that in October 2016, his home in Abuja was raided by operatives of the Department of State Services (DSS).
The secret police claimed it found hard currencies believed to be proceeds of corruption in his residence.
He was asked to step aside from his duties to face charges of money laundering brought against him at a federal high court in Abuja.
He also faced charges of false asset declaration at the Code of Conduct Tribunal (CCT). Both cases were dismissed in 2018.