Tributes Pour As Bunny Wailer Goes Home To Meet Bob Marley And Peter Tosh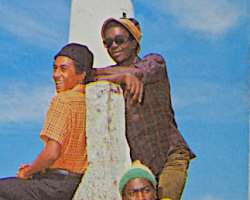 In 2016, after spending 90 minutes on stage before an excited full-house at Boston's Paradise nightclub, where he was reported to have ably dusted off old classics and new songs, and admirably seen by most of his fans dressed all in white, with his gray dreads swirling on his head like the top of a soft-serve ice cream cone, he ostensibly felt the absence of his musical partners, Peter Tosh and Bob Marley, and said, "Peter gone, Bob gone. You da only one dere". With his mournful nostalgia, it may not be wrong to say that Bunny Wailer was feeling heavenly bound as he looked forward to meeting Bob Marley and Peter Tosh in paradise. His somber utterance was no doubt considered to be a statement of fact, but also of musical reality. Bunny Wailer who was 69 then, and appeared to be in good health was today, March 2, 2021, reported to have died in the Medical Associates Hospital in Kingston, Jamaica at 73.
According to his manager, Maxine Stowe, the legendary reggae singer died in the morning of Tuesday. "Yes. He died about 8:00 this morning. I'm still right here with him," he told Jamaican Observer this morning. As gathered, he had been in and out of hospital since his second stroke in July 2020.
Bunny Wailer, who was more often than not addressed in his complete name hailed from Trench Town, and was originally named Neville Livingston. He was a founding member of The Wailers, which included Bob Marley and Peter Tosh.
It would be recalled that Marley died of cancer in May 11, 1981, while Peter Tosh was killed at his St Andrew home on September 11, 1987.
Bunny Wailer's albums include Blackheart Man, released in 1976, and Rock 'n' Groove which came out five years later while his hit songs include Cool Runnings, Ballroom Floor, Crucial, and Bald Head Jesus.
In 2017, the Jamaican Government awarded Bunny Wailer an Order of Merit, the country's fourth highest honour. The Government again recognized his contribution to Jamaican music in February 2019 with a Reggae Gold Award.
According to RollingStone, a Jamaican entertainment online media platform, was born April 10th, 1947, in the Nine Mile district of Jamaica's St. Ann Parish. He was a friend of Marley from a young age; following the death of Marley's father, Norval, in 1955, Marley's mother, Cedella, lived with Livingston's father, Thaddeus, in Trench Town, making Bunny and Bob near-stepbrothers.
It added that while Marley and Livingston were being mentored by Joe Higgs, "the Godfather of Reggae," they met Higgs' fellow student Peter Tosh; the then-trio ventured to Kingston. Soon after, they were joined by singer Junior Braithwaite and backup vocalists Beverley Kelso and Cherry Smith. Following a string of name changes that included the Teenagers and the Wailing Wailers, the Wailers aligned with Coxsone Dodd's sound system and Studio One label, which employed songwriters and producers like Lee "Scratch" Perry and Jackie Mittoo, and released the Marley-penned "Simmer Down," a Number One hit in Jamaica.
At this juncture, it is not an exaggeration to say that it has never been in doubt that most Nigerians ignobly see Rastafarians, particularly in Nigeria as sinners and faithless. It is not true. While it is expedient in this context to say that Rastafarianism is a religion, it cannot be a misnomer to equally hold on to it as a faith. According to Wikipedia, "Rastafari, also known as Rastafarianism and the Rastafari movement, is a religion that developed in Jamaica during the 1930s. It is classified as both a new religious movement and a social movement by scholars of religion. ... Rasta beliefs are based on a specific interpretation of the Bible".
For instance, as a devout Rastafarian, Bunny Wailer adhered strongly to the tenets of his Rastafarianism, which includes a belief that amputation is sinful. A Bible verse that Rastafarians hold as very important is Leviticus 21:5, which says, "They shall not make baldness upon their head, neither shall they shave off the corner of their beard, nor make any cuttings in the flesh."
The first part of this verse is the foundation of the belief in wearing dreadlocks, and the second is the basis for a belief that amputation (as well as other types of body modification) is sinful. Other verses, including those which refer to the body as a holy temple, may also influence this belief.
Rastafarianism teaches that death is not a certainty and that truly holy people will gain immortality in their physical bodies. To acknowledge that death is a possibility is to make certain that it will come soon. It is believed that this is the reason that Bob Marley never wrote a Will, either, which resulted in difficulty in dividing his assets after his death.
Since his death early today, tributes have started pouring in in deluge. "The passing of Bunny Wailer, the last of the original Wailers, brings to a close the most vibrant period of Jamaica's musical experience," wrote Jamaica politician Peter Phillips in a Facebook post. "Bunny was a good, conscious Jamaican brethren."
In a series of tweets, the Prime Minister of Jamaica Andrew Holness expressed his condolences to the family of Jah B as he was fondly called. "My deep condolences to the family, friends and fans of legendary Reggae artiste, Neville Livingston, also known as Bunny Wailer, Jah B."
The Prime Minister added, "Considered one of the longtime standard- bearers of Reggae music, Bunny Wailer was founder and an original member of Ska, Rocksteady and Reggae group, "The Wailers" along with late Bob Marley and Peter Tosh. Bunny Wailer is a three-time Grammy Award winner. In 1991 he won the award for Best Reggae Album, "Time Will Tell," a tribute to Bob Marley.
"Four years later, he won another Grammy with the album "Crucial Roots Classic", and in 1997, his third Grammy was awarded for the "Hall of Fame", a tribute to Bob Marley's 50th Anniversary."
The PM Holness ended the tweets by acknowledging what a great loss it was for reggae music and fans who loved Wailer around the world.
"This is a great loss for Jamaica and for Reggae, undoubtedly Bunny Wailer will always be remembered for his sterling contribution to the music industry and Jamaica's culture. May his soul Rest In Peace."
.