SRI LANKANS BESIEGE UN OFFICE OVER WAR CRIMES PANEL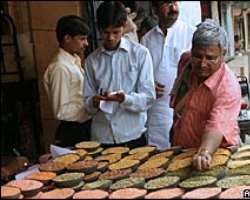 Hundreds of Sri Lankan protesters have surrounded the United Nations offices in Colombo to demand the UN end investigations into alleged war crimes.
They burned an effigy of UN Secretary-General Ban Ki-Moon in protest at his setting up of a human rights panel to look at the Sri Lankan war.
Housing Minister Wimal Weerawansa led the march, urging people to besiege the UN compound in retaliation.
Sri Lanka says the panel is not needed and denies troops committed war crimes.
There have been consistent allegations that both the army – and Tamil Tigers rebels who troops routed last year – committed crimes at the end of the war.
About 7,000 civilians died in the last five months of the war, the UN says.
It says the panel, announced last month, will advise on how to deal with alleged perpetrators of abuses.
'Warning'
The flag-waving protesters, led by Mr Weerawansa, set up a platform for a hunger strike at the UN office, the BBC's Charles Haviland reports from the scene.
The protesters, many of them Buddhist monks, say their action will continue until the UN disbands the human rights panel.
"We warn the UN to withdraw the [investigating] panel if they want to get the employees out," the Associated Press news agency quoted Mr Weerawansa as saying.
Our correspondent says the protests have been fiery but without any real edge of menace.
There has been much international concern over the conduct of both sides in the latter stages of the war, which ended in May 2009.
Sri Lanka says it will hold its own internal inquiry, but the exact terms of reference are not clear.
International human rights groups are sceptical about the ability of the government to investigate claims impartially. They are demanding an independent investigation.