FROM SOUTH AFRICA'S TOWNSHIPS TO THE OPERA HOUSE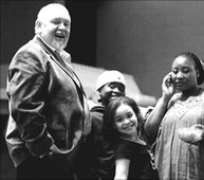 South African opera star Pauline Malefane is promoting theatre to help nation building
Tim Whewell
Opera star Pauline Malefane is perhaps the greatest success story to have come out of the vast, impoverished South African township of Khayelitsha.
She has sung in theatres and concert halls from New York to Tokyo.
And today she is the joint founder of a Cape Town theatre company that aims to tap South Africa's rich choral tradition, and the wealth of other artistic talent in the townships, to create a new kind of accessible drama, breaking down barriers between South Africans and helping to build a sense of nationhood.
When we meet she is visiting Manyano High School in the sprawling Cape Town township where she grew up, to conduct an impromptu singing masterclass.
As she bounces lightly on the balls of her feet, the soprano notes that have captivated audiences all over the world fill the small, bare classroom.
Four rows of young faces stare back at her, a mixture of admiration and intense concentration.
These teenagers are the heirs to the South African tradition of communal singing that incredibly attracts as many people to choir festivals here as it does to football matches.
Rejuvenation
Pauline's theatre company, Isango Portobello, is based nearby in a new theatre – named after the legendary South African playwright Athol Fugard.
It opened earlier this year in District Six, the once vibrant, multi-ethnic district that was bulldozed by the apartheid authorities in the 1960s to achieve racial segregation in Cape Town, but is now slowly coming back to life.
"Claiming it back is very important, and very important to the company," the Fugard's co-founder, Mark Dornford-May tells me. He hails from Yorkshire but has lived in South Africa for more than a decade.
"It gives a spiritual sense to what we're trying to achieve. We have to create, we have to help this new nation – and it is a new nation because before it was split into so many groups."
But as well as aiming to help change how South Africa sees itself, the Fugard Theatre and its resident company, Isango Portobello, is about transforming individual lives.
And few have been transformed more than Pauline Malefane's.
Early life
She and her brother and sister grew up in Khayelitsha in the 1980s in a small two-room house without electricity at a time when the township – like all others in South Africa – saw running battles between protesters and the apartheid police.
Pauline's mother and father ran a small taxi firm and were shocked at her choice of career.
"When I decided I wanted to do music I could see the confusion in my parents' faces. 'You want to do what? And how will you survive? We have struggled all these years, and you want to sing? And opera? We have never even heard of opera.'"
But Pauline persevered and later became the heroine of Khayelitsha when she played the title role in an award-winning Xhosa-language version of Bizet's Carmen, filmed entirely in the township.
Since then her performances in the highly-demanding role of Queen of the Night in Mozart's Magic Flute have also won critical acclaim in London and beyond.
Changing attitudes
Mark Dornford-May is not just Pauline's co-director at the theatre, he is also now her husband.
The couple have recently had their third child and Mark believes their "rainbow family", as well as their work in the theatre, is part of what South Africa is trying to achieve.
"If we go out as a family, in certain areas people still stare at us," he says. "But the move is gradually towards a much more relaxed and mixed culture. In 50 or 60 years time you'll get South Africans of every colour with fantastic names like Bungiwe Smith – those are going to be the norms."
More important though is how the theatre can transform lives in a country where all public performances were once segregated, and where the arts have long been a political tool in the battle for change.
Pauline remembers the excitement when her film "U-Carmen eKhayelitsha" (Carmen from Khayelitsha) premiered in the township, with 3,000 people attending the screening in just one day.
But what she really wants is to change attitudes so that South Africans from all backgrounds will come to see her perform without invitations or complimentary tickets.
"It's not a matter of getting a bus and loading it with blacks and taking it to the theatre," she says.
"It's a matter of getting people to understand that things have changed, it's OK to go into a theatre, you are allowed."