Inaugural Eko International Film Festival Opens Wednesday July 7 in Lagos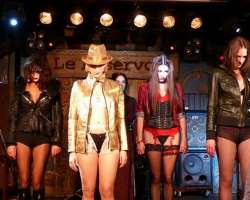 A Scene from Glamrock City
A scene from Glamrock City, the Opening Film of EKOIFF
Inaugural Eko International Film Festival Opens Wednesday July 7 in Lagos
The inaugural Eko International Film Festival (EKOIF) opens Wednesday July 7 at the prestigious Genesis Deluxe Cinemas at The Palms in Lekki, Lagos.
Award winning filmmakers from Germany, UK, Spain, France, Albania, Kenya and Nigeria are participating in the film fiesta with over 25 films including the thrilling Glamrock City and the King of Palma.
The thrilling tale of the femme fatale, "ART ET DECES aka Glamrock City," written and directed by Christophe Kourdouly and Stéphane Jauny, opens the film festival and to be followed by the screening of other films from Wednesday to the closing day at the weekend.
The following is the list of the selected films.
1. The Man in the Ground
Director:Jesus Risueno
Duration:19minutesSynopsis:winter,every nigh in the city streets, on unknown person is brutally murdered. There is no relation between the victims, no purpose no evidence.
Year:2010
Country: Spain
2. El Forjador De Historias(The Storymaker)
Director: Jose Gomez Gaugo
Duration:15 minutes
Synopsis: For better or worse, Nothing escapes my will.
Year 2009
Country: Spain
3. The Cortege(Elr Cortejo)
Director ;: Marina Sereseky
Duration: 14 minutes
Synopsis:
Cap is the oldest to grave digger in the cemetery. Used to working amidst the suffering of others and the jokes of his colleagues there is only one person capable of taking him out of his daily routine. Every month for the last couple of years he has waited for months to take flowers to the groove of her husband. She is his last hope.
Year:2009
Country :Spain
4.Thunderbolt And The Mermaid
Director: Diego Sanchidrian Rubio
DURATION:11minutes
Synopsis: It is said that dreams are unreachable for they are far away,hiding beyond the stars. But in order to make them come true you do not have to know where they hide, you just do not have to be bold enough to
5. Balcony Boy
Director: Pilar Palomero
Duration: 10 minutes
Synopsis: Balcony Boy, poor balcony boy. His fault?
Having big ears. His bad habit? Putting his head where he shouldn't have.
Year: 2005
Country: Spain
6. Fearful John (Juan Con Miedo)
Director: Daniel Romero
Duration: 11 minutes
Synopsis: During the holidays at his grandparents village, John meets Mary, a mysterious girl who tells the terrifying legend surrounding the peasant's old house. John, unlike the character in the tale is fearful, Mary is not.
Year: 2010
Country: Spain
7. Antena
Director: Geatian Rexhep Koci
Duration: 19 minutes
Year: 2010
Country: Albania
8. Jinx in a Jiffy
Director: Geatian Rexhep Koci
Duration: 18 minutes
Year: 2010
Country: Albania
9. Trope Zones
Director: David Macian And Eduardo Molinari
Duration: 6 minutes
Synopsis: He's crazy about food; she'll do anything to please him. A perfect romance as long as something is in the fridge.
Year : 2010
Country: Spain
10. La Union
Director: Carlos A. Sambricio
Duration: 18 minutes
Synopsis: Sara encounters her boyfriend Fran, who died in a car crash six months earlier. A mysterious and breathtaking develops as Fran employs a hypnotic seduction game in order to convince Sara that he is real and that they can be together again.
Year: 2008
Country: Spain
11. Out Of Here
Director: Chino Moya
Duration: 8 minutes
Synopsis: After a dispute, a young woman leaves her older boyfriend's comfortable apartment.
She has nowhere to go, so she wanders the streets aimlessly, eventually ending up in a café where she has a random encounter.
Year: 2010
Country: Spain/UK
12. Weightless
Director: Oliver Krafcht
Duration: 10 minutes
Synopsis: 18th Century: Five children spend the day outside in a mysterious garden. When they try to fly a kite, they discover a tree full of red berries. The oldest girl Elsie warns that these fruits are poisonous, but the children don't listen and try them. They are sweet, but soon the poison begins to work…
Year: 2010
Country: Germany
13. Dolls
Director: Rosa Marquez
Duration: 14 minutes
Synopsis: Ana wakes up in an old abandoned stable; next to her, there is a mysterious girl who seems to have been there for a long time, but the only thing she can find out about her is her name: Irina. Ana will try desperately to get Irina's help to escape from their captor.
Year: 2009
Country: Spain
14. Ansiedad (Anxiety)
Director: Eduardo Casanova
Duration: 25 minutes
Synopsis: Violeta Largertija is a great prima donna with social phobia. Violeta can neither speak nor relate by anybody that knows her, with her lovesick character, she survives feeding on tranquillizers.
Bertlo is crazy in love with Violeta, but he knows her problem and has a plan to know her.
Anxiety is a story about tranquillizers, an eccentric story, egocentric, excessive, melodramatic, dark, but especially anxious.
Year:2009
Country: Spain
15. Pumzi – The Outside Dead
Director: Wanuri Katchiu
Duration: 20 minutes
Synopsis: Futuristic Africa, 35 years after World War 3, the water war…. Nature is extinct. The outside is dead. Asha lives and works as a museum curator in one of the indoor communities set up by the Maitu Council. When she receives a box in the mail containing soil, she plants an old seed in it and the seed starts to germinate instantly. Asha appeals to the Council to grant her permission to investigate the possibility of life on the outside but the Council denies her exit visa. Asha breaks out of the inside community to go into the dead and derelict outside to plant the growing seedling and possibly find life on the outside.
Year: 2009
Country: Kenya
16. Bonnie and Clyde
Director: Omoyemi Jolaoso
Synopsis:
Bonnie and Clyde is a short film about two young people looking for survival in a harsh terrain of Lagos city. They engage in stealing mobile phones, gadgets and electronics being the most popular survival tools in Lagos.
Year: 2010
Country: Nigeria
17. Made In Japan
Director: Ciro Altabás
Duration: 6 minutes
Synopsis: Pedro J. Marquez and I grabbed and went to Japan late last year to film a documentary about the culture video games.
Year: 2007
Country: Spain
Film Category : Feature Length :-
1. The King Of Palma
Director: Alix Francois Meier
Duration: 80 minutes
Synopsis: The king of Palma moves like Charlie Chaplin, looks like Mr. Bean and seems an aging film star when he walks his best friend Flocky, a little white dog, through the old part of town in a slightly bent position and with a cigarette in his mouth. When he's excited or happy, he rubs his hands together. His black hair is short and parted with great precision. When he talks to you, his kind blue eyes are both curious and penetrating at the same time.
"My name is Monsieur Bruno Regnault de Maulmin. I live in this street. And I am, maybe I am, how could I say, I might be the King of Palma. One could say: The King of Palma. I don't know if everybody knows. I think that I am the King of Palma, because I am sitting in the café and I go for a walk with my dog. But I am not like the King of Spain. I am the King of Palma, because I behave respectably."
Every day the Frenchman roams his kingdom in the heart of Palma de Mallorca. His quarter has the charm of a small Italian village: Sandstone-colored walls line the narrow, winding streets and alleys, sturdy houses with small doors stand next to venerable palaces and convents. This is his exterior world.
Bruno's inner world is the world of a twelve-year-old boy, one that he perceives in a very personal way. Bruno is a diagnosed schizophrenic. What matters to him are the little things in life, and his everyday encounters. What matters is when God talks to him, when he's helpless because his dog Flocky won't accept his lead, when he's wondering why the police haven't arrested him on his walk, when his 10-year old niece puts him into fancy dresses, or when a forgotten jar of mayonnaise runs out in his pocket.
Bruno lived in Paris by himself until 1991. He was all on his own, unable to cope with daily life. He would simply spend money until he had nothing left. In order to avoid sending him to a home for the mentally disabled, his French-Majorcan family decided to take him in. With much love and understanding, they help him to lead a relatively normal life. Bruno is very vital and optimistic. He often discovers new things in his life and is amazed at them. He hates maliciousness, violence, injustice and immoral behaviour.
He could be considered a perfect citizen, if it weren't for his illness with his changing moods and the fact that even small things can completely disconcert him.
The film accompanies Bruno through his daily routine. The deeper we delve, the more we realize that Bruno's life isn't always as easy as it looks. And when his best friend Flocky disappears, his life goes completely out of control.
Year: 2010
Country: Germany
2. Glamrock City aka Art et Décès
Director: Christophe kay Kourdouly, Stephanie Jauny
Duration: 90 minutes
Synopsis: A thrilling tale of the femme fatale, "ART ET DECES aka Glamrock City," written and directed by Christophe Kourdouly and Stéphane Jauny, screened at the Marche on May 19th. Produced by Antetime Production, the film is of two girls who in search of inspiration kill men to capture their last breath of life and create Art from Death for their next painting exhibition. The film showed great emotion and an intriguing plot line that keeps your attention. In a twist, the directors listed above, including the third director, Luc Job, casted themselves into the final scene. An emotional and riveting tale, Glamrock City is a story of love taken to the extreme.
Year: 2010
Country: France/ UK
Documentary
1. Paisajes Interiores (Interior Landscapes)
Director: Gabriel Folgado
Duration: 80 minutes
Synopsis: Interior landscapes tells the story of mining industry in El Bierzo an area located in the Spanish province of León. Three generations of miners from the same family unfold the secrets of what it means to be a miner and live in a mining community. Through their memories, experiences and impressions we glimpse the reality of a group of people who share not only a job, but also a special way of life.
Year: 2008
Country: Spain
2. Hobby
Director: Ciro Altabás
Duration: 50 minutes
Synopsis: Hobby was conceived by director Ciro Altabas as a visual document to witness the release of the Nintendo Wii and the video-game culture in Japan. However, it slowly morphed into a showcase of some of the many ways in which the Japanese spend their leisure time. Watch this brilliant and very funny film over Christmas on RENDERYARD.
Year: 2008
Country: Spain
3. Dundun (Talking Drum)
Director: Kayode Ibisankale
Duration:
Synopsis: A documentary on the Yoruba Talking drum called Dundun.
Year: 2010
Country: Nigeria
Releases displayed in Africa/Lagos time
6 Jul 2010
13:00
QIAGEN Announces CE Marking of its careHPV Test for Developing Countries
5 Jul 2010
20:46
Darfur / UNAMID JSR honoured
13:46
The week ahead at the United Nations: the European perspective (26/10)3-9 July 2010 (and beyond)
|
Article source