Scholarship Bard Soon For FCT – Minister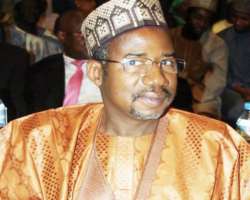 PHOTO: FCT MINISTER, SENATOR BALA MOHAMMED.

ABUJA, July, 05, (THEWILL) - The FCT Administration will soon establish the FCT Scholarship Board to ensure that all classes of students in the Territory are given the required opportunity to discover and exploit their potentials.
The FCT Minister, Senator Bala Abdulkadir Mohammed dropped the hint after the bi-weekly FCT Executive Committee (EXCO) meeting in, Abuja.
The Minister said that it is the intention of his administration to encourage children in the Federal Capital Territory especially the natives to further their education to keep them at par with others in the 36 states of the Federation.
Senator Mohammed remarked that the Board will have representation from all the six Area Councils of the Territory; insisting that education is the best legacy to bequeath on the younger generation of a country who are the future leaders.
The Minister disclosed that the scholarship matters in FCT was hitherto a Unit under the Education Secretariat but would have to be upgraded to meet the new challenges in the sub-sector.
He emphasized that platform and opportunities must be provided for any child in the Federal Capital Territory whatever his/her social or economic status to be able to attain the highest educational level without systematic hindrance.
Senator Mohammed challenged parents to as a matter of priority encourage their wards to advance their education; assuring that the FCT Administration will always be there to support them since the literacy level in any society determines the level of advancement of such society.
The Minister called on the Traditional Rulers in the Federal Capital Territory to make it part of their responsibility to enlighten and encourage their subjects on the need for our children to further their education to advanced level.
"This current FCT Administration cannot afford to toy with the future of our children because the future of our nation depends on their future," the Minister said.
The Minister therefore directed the Secretary of the Education Secretariat, Alhaji Hussaini Halilu Pai to expedite action on its establishment with a desirable framework that would stand the test of time.