GYB: The Future Of Nigeria Is Here!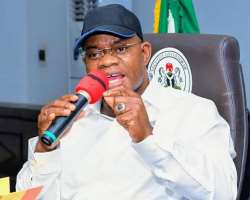 One of the beauties of constitutional democracy is periodic elections. Through it, the people are offered opportunities to choose the leaders they want, assess the leaders they have and even upgrade or fine-tune established concepts of leadership in line with the dynamics of the society. In Nigeria, there has been general concern that except for former President Goodluck Jonathan, all the presidents of Nigeria since 1999 were advanced in age. In fact, it is on record that Nigeria has recycled two former military heads of state in this fourth republic. That these recycling of former presidents at the presidency is happening at a time that Nigeria is blessed with a densely-populated constituency of energetic and viable young people who are unemployed has become a source of worry. This is moreso in the face of the mantra which holds youths as future-leaders. The result of this is that Nigerian youths have begun to agitate for a definite time-schedule in the ever-receding phenomenon known as "future". Nigerian youths have often asked, "If youths are future leaders, when will the future come?" This agitation has attracted national attention and culminated in an enactment of the National Assembly widely-known as the "Not Too Young to Run" Act!
Without prejudices to the efforts of the respective previous administrations as well as the present administration in Nigeria to solve the problems of the country, it is pertinent to say that Nigerian institutions and system have decayed so much over a long period of time that it has become necessary to bring vibrant and young but experienced hands into the centre-stage of leadership through the approaching 2023 presidential election. This is the only open viable or potent path to radical national recovery, revival and recreation which the Nigerian federation yearns for.
So far, we have an impressive array of aspirants from across the breadth and length of the country who, in the belief that they are the president that Nigeria needs, have indicated their resolve to contest the 2023 presidential election. From the various presentations made so far by majority of the presidential aspirants, they seem to approach the hydra-headed elephantine problem of Nigeria from narrow angles. While some see the problem of Nigeria as corruption, another sees it as poor exploitation of Agricultural and natural resources arising from over-reliance on oil. Yet different other persons respectively point at one or a combination of poor technological development, lack of basic infrastructures, poor maintenance culture, mono-economy, nepotism, negative attitude, poor work ethics, indiscipline, lack of patriotism et cetera. However, the truth is that the problem of Nigeria comprises all of the above and more. Like Chinua Achebe wrote in his bestselling book, The Problem With Nigeria, these problems can be summed up as the problem or challenge of leadership. Nigeria needs a vibrant and experienced leader or president in 2023 who has the energy, courage, political will, intelligence and experience in the management of men and resources to radically harness the overflowing natural and human resources in Nigeria to move Nigeria to greater heights which has long been beckoning on Nigeria. The leader that Nigeria needs in the coming democratic transition is not a Mr. Know-All. Yes, because Nigeria is blessed with galaxies of natural and human resources a fraction of which, if well-managed, can reverse the narratives of Nigeria for better and make her the envy of the rest of the world.
In the light of the foregoing, this piece seeks to present a humble, sprightly, intelligent and diversely experienced manager of men and resources - Governor Yahaya Bello, GYB, of Kogi State - to Nigeria for the 2023 presidency. GYB exudes genuine humility which manifests in all he does. In Kogi State which he governs, he believes he is a mortal being like others and so, treats people of all social strata with dignity even as he had continued to deliver good governance to the people and to depend on God for guidance and direction. The Holy Scriptures are replete with divine condemnations of pride: In Qur'an 32:8, we are warned that "...Verily, the Almighty does not like those who are arrogant and boastful"; while it is written in 1st Peter 5:5 that "God opposes the proud but gives grace to the humble." There is no doubt that GYB is a man under divine grace. His emergence as the helmsman of Kogi State in 2016 and his infectious charisma which endears him to all men of goodwill in Kogi State and beyond give him out as a man under grace. This is why no matter what GYB's political antagonists or adversaries do or say, Kogites have been adamant and unflinching in their preference for GYB. In the gospel of Luke 1:52, it is recorded that "He [God] has deposed the powerful from their seat, and he has exalted the humble." God has deposed the powerful gang-ups by the beneficiaries of the old order in Kogi State against GYB twice and exalted GYB more than once. From all indications, GYB's best is yet to come because God is not done with him.
In another vein, young and benevolent GYB's presidency will be a perfect answer to the plaintive "Not Too Young to Run" prayer or agitation of Nigerian youths. Born on 18th of June, 1975, GYB who will be 48 in 2023 will, no doubt, be the most acceptable candidate to the teeming Nigerian youths; and consequently the youngest democratically-elected President of the Federal Republic of Nigeria. His background in military intelligence and business; as well as leadership experience as a successful two-time governor will come in handy in solving Nigeria's developmental, economic and security challenges. These are strong selling points for the GYB presidential project. A man of the people who has socialized with people from all parts of the country and has appointed people of diverse ethnicities into his present administration, GYB's presidency is bound to be all-inclusive. This is yet another uncommon selling point. Unassuming GYB's humility which makes him feel at home with and among the people will help his presidency have first-hand information of the people's needs and desires; thus making him to be in the shoes of the masses when designing or implementing government policies. It is doubtless that this very factor makes the GYB presidential project a masses' movement.
The 2023 presidential project is critical for the future, progress and posterity of Nigeria. With a head filled with wisdom, sinews overflowing with energy and a heart stretched out like the hands on the cross by love for all Nigerians irrespective of cultural, religious and ideological leanings, it is safe to say that the future of Nigeria in 2023 is here. GYB personifies the future of Nigeria.
Disclaimer:

"The views/contents expressed in this article are the sole responsibility of the author(s) and do not necessarily reflect those of The Nigerian Voice. The Nigerian Voice will not be responsible or liable for any inaccurate or incorrect statements contained in this article."