EAST AFRICAN LEADERS URGE UN TO PROVIDE SOMALIA FORCE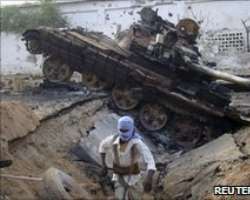 East African leaders have renewed their calls to the UN to replace the beleaguered African Union (AU) peacekeeping mission in Somalia.
At a meeting in Addis Ababa, Ethiopia, Somalia's president said a radical strategy to end almost two decades of crisis in the country was needed.
The leaders of the regional grouping Igad also agreed to deploy 2,000 more AU peacekeepers to Somalia.
AU troops have been fighting Islamists who control most of southern Somalia.
The UN-backed government only runs a few parts of the capital, Mogadishu.
It is under constant attack from hardline Islamist groups who control much of southern Somalia.
Growing frustration
Speaking at the hastily-convened meeting in Addis Ababa, Somali President Sheikh Shariff Sheikh Ahmed said that his country was in the hands of al-Qaeda and extremist groups.
He also made an impassioned appeal for an urgent and radical strategy to end the crisis.
Previous Igad meetings have also called on the UN to replace the 5,000-strong AU mission.
The UN has agreed in principle but has not set a date for the switch.
Analysts say few countries will be willing to risk sending their soldiers to the chaos in Somalia.
Frustration with the Somali leadership's failure to contain day-to-day violence in the country has been growing, the BBC's Uduak Amimo in the Ethiopian capital reports.
The major headache for Igad is that there does not seem to be much commitment from Somalia's political class or from the UN to helping the country out of the political violence.
The government's mandate expires in one year but it still has not met most of its objectives on reconstruction and reconciliation.
Igad has also reminded donors numerous times about their pledges to finance Somalia's reconstruction.
Igad's members are Djibouti, Ethiopia, Kenya, Somalia, Sudan and Uganda.