FRENCH PARLIAMENT TO DEBATE ISLAMIC VEIL BAN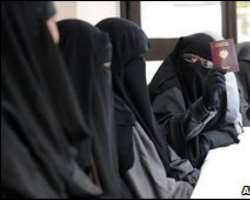 By Christian Fraser
The French parliament is due begin a debate to ban women from wearing full Islamic veils in public.
The legislation now in front of the lower house will make it illegal to wear the burka anywhere in public.
It envisages fines of about $180 (£119) for those who break the law, with much tougher penalties for those found to be pressuring their wife or sister.
A vote on the proposed legislation will be taken next week before a full Senate vote in September.
The burka ban, which has the backing of President Nicolas Sarkozy, is also winning support in other parts of Europe.
Belgium's lower house has approved a similar measure and Spain's senate recently narrowly voted to impose a ban too.
Police concerns
French Prime Minister Francois Fillon set the tenor of this debate last week at the opening of a new mosque in the suburbs of Paris.
Muslims who wear the full veil were "hijacking Islam" he said, providing a "dark sectarian image" of the religion.
But that is the crux of this debate. There are only about 2,000 women who wear the burka in France, and the interior ministry's own studies, have shown that a majority do not fit the stereotype of marginalised, oppressed women.
A large number have taken the veil of their own volition.
The police unions have already expressed concerns over how such a law will be enforced, their members don't particularly warm to the idea of pressuring women to remove the veil.
And, of course, there are all sorts of human rights considerations.
Legal experts warn the broad scope of the law banning the veil in all public places as opposed to state institutions could be overturned by the constitutional court.