Movie stars overrun Asaba hotels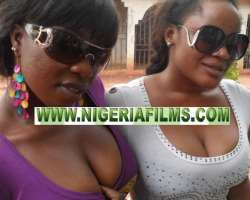 It's no longer news that the ancient city of Asaba has transformed into the hobnob for film production in the country. But what is news instead, is the fact that the invading movie stars and producers have taken permanent residence in some of the major hotels located within the town.
HVP check last weekend in Asaba confirmed this development.
Some of the stars, HVP gathered have been living in the hotels in the past two to three months either soliciting roles, or probably waiting to complete their own side of an agreement with a particular producer or the other.
However, HVP investigation also revealed that while majority of the patrons of these hotels are aspiring actors and actresses as well as some few known faces in the industry, prostitutes in the town are not left out as they are now disguising themselves as stars to solicit customers.
In fact, the only known popular place where the crew members assemble on daily basis, Zenith Hotel is fast turning into a brothel. Unengaged young girls, half-nude if you like, whose faces may not sell any film are sighted hanging around the hotel to beckon upon patronage.
"You can see that the hotel bills here are cheap and additionally, there's relative peace here and we also enjoy security . " one of the stars stressed.
Adding he said, "during the kidnapping era, the State government provided us with security, such that anytime we were on location , the police would there with us. Again, you find out that Asaba is where things are happening currently as far as Nollywood is concerned. So from time to time, most of us breeze in here to see if we will be lucky to get a job."
Indeed, in Asaba, hotel bills are not too expense. With the sum of N2500 to N3000, you will get yourself a comfortable hotel apartment.'a star said.
Shooting last weekend of the suspense-filled film by Guinks Venture, titled " Enemies Within" in Asaba brought this revelation to the fore.
The film, directed by Ugezu J. Ugezu parades a galaxy ofNollywood stars, including Emeka Ike, Mike Ezuruonye, Mercy Johnson, Amaechi Mmuonago, Linda Chiyere and Joyce Kalu. Other are Ihuoma Nnadi, Rita Arum, a Cameroonian actress, Yufh Solange and Ghanaian Actus Frank.
On the film, the executive producer, Mr Uzo Godson Nwaosu said, the big budget film resolves around the subject of greed and its negative effects. 'It is the story of a rich man who made his money through a dubious means by embarked on the elimination of every obstacle that will stand on his way to achieving an everlasting success. But had his hands burnt in the process, as his past emerged to hunt his present."
According to him, the film which took him about three month to put together will hit the market in two months time.