Under-age Married Voters: Huriwa To Write European Union On Alleged Paedophiles In Nigeria's Legislative Chambers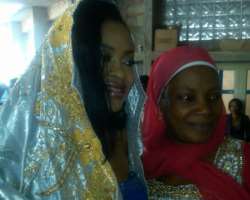 The Prominent Civil Rights Advocacy group-: HUMAN RIGHTS WRITERS ASSOCIATION OF NIGERIA (HURIWA) has condemned the move by some law makers to amend the electoral Act to allow for under age girls who are married to vote saying that it will write to the European Union and the United Kingdom to probe some of the legislators for possible links to paedophilia.
"We are definitely going to send powerful letters to member nations of the European Union, the United King, the United States of America, Australia and Canada to call their attention to the possibility of a network of paedophiles in the current National Assembly of Nigeria".
"We will be asking these developed societies to take steps to impose travel restrictions against these identified members of the National Assembly who may actually be running a network and a gang of Paedophiles. We are disappointed that in a time like this, when nation's around the World are using their instruments of legislation to advance Women's Rights and stop gender based violence, the Nigeria's national Assembly is busy drafting a pro-paedophilia bill to enable UNDER-AGE MARRIED girls to enjoy voting rights which inevitably amounts to legislating Paedophilia into law in the Federal Republic of Nigeria."
HURIWA recalled that the national assembly joint committee on the Independent National Electoral Commission (INEC) is recommending that married underage girls be recognised as eligible voters even when the Nigeria's constitution currently pegs the eligible age for voting at 18.
HURIWA recalled that the national assembly joint panel made the recommendation to a technical committee which will work on the new electoral act proposed by the federal lawmakers even as the technical committee is made up of lawyers, lawmakers, INEC officials and civil society organisations (CSOs).
HURIWA recalled that at a public hearing organised by the joint panel about two weeks ago, some stakeholders recommended that married underage girls should be considered as voters.
The Rights group said the decision by the joint Committee of the National Assembly to promote this sort of anti-social behaviour of encouraging Under age marriages with all the attendant health complications such as VesicoVaginal Fistula (VVF) which is scientifically caused by early marriage is one of the greatest set backs we are witnessing since the coming of Constitutional democracy in the Country and this must never be allowed to happen.
The Rights group said it was shocking that even ad the nation has spent millions of public funds to try to rehabilitate underage married girls suffering from VVF, the National Assembly is busy seeking to pass a bill to unleash more VVF sufferers on the National health sector that is weak and grossly underfunded.
HURIWA however expressed shock that whilst speaking at the inauguration of the technical committee in Abuja, Kabiru Gaya, chairman of the senate committee on INEC, said the recommendation is a unanimous decision by the joint panel saying thus: "The joint committee has proposed that if a lady who is not up to 18 years is married, she should be considered to be mature enough and be eligible to vote," Gaya said.
HURIWA applauded Professor Mahmood Yakubu, INEC chairman, who said the issue of voting age is a constitutional matter, adding that the law also recognises 18 as marriageable age just as the Rights group said the hierarchy of the Independent National Electoral commission headed by Professor Mahmoud Yakubu should refused to capitulate to the primitive lifestyle of those who actively supports Paedophilia because apart from it being an illegality, the practice of Under age marriages comes with devastating consequences for the girl child because it inherently denies the girl her fundamental human rights to pursue her academic and other developmental goals in her chosen careers apart from the serious health problems associated with early marriage which includes VVF.
HURIWA said it will be tasking the member nation's of the European Union and other Western Civilised Societies to impose travel bans on all the law makers promoting the bill to legalise early marriage because there is a very thin line between showing passion for early marriage and practicing Paedophilia which is a very serious crime all around the World.
"We will be writing to these nations to investigate these members of the joint Committee on the Electoral Act amendments with a view to ascertaining if any of them is a Paedophile so the person can be stopped from travelling around the World to avoid contaminating other teenage girls of other nations since they are in a position to have access to slush funds to fund such an illicit lifestyle. They should be investigated thoroughly because at this time everyone is talking against early marriage and other sexual violence against girls, here in Nigeria there are persons whose passion is to move to legalise early marriage in Nigeria. We as a civilised constitutional democracy must resist and reject this obscene and immoral lifestyle".