Ogun govt suspends commissioner over alleged sexual harrasment of underaged girl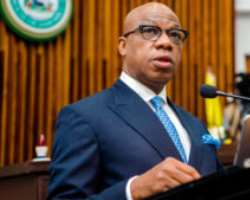 Ogun State Government announced on Sundsy the suspension of the Commissioner for Environment, Abiodun Abudu-Balogun, from office for alleged sexual harassment of an underaged girl.
A statement by the Secretary to the State Government, Mr Tokunbo Talabi, said the government suspended the commissionerto enable him to cooperate fully with the independent investigation being carried out by the police.
The government said the suspension would last pending the conclusion of an independent investigation into the allegation.
The commissioner was alleged to havd sexually harassed a 16-year-old Barakat Mayowa in his home.
Acirding to the girl, the commissioner fondled her breasts and muttered incantations while she screamed and struggled to free herself from his grip.
By her story, the assault took place on New Year's eve after being stalked for days and lured to the acused commissioner's house on the pretext of a job offer.
She claimed that she was subsequently entrapped by the Ogun State commissioner behind locked doors and barely escaped after sounding the alarm for help.
A full interview on the ordeal  as captured on YouTube is now trending online
  The Rainbow learnt that the Ogun State Police Command has begun investigation into the allegation and had invited the commissioner for questioning.
Abimbola Oyeyemi, the Ogun State police image maker, could not be reached for comment before press time.