Nigeria's Penury Breeds Criminals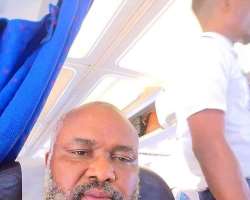 My last Christmas seasonal pilgrimage to my Countryside in Arondizuogu in Imo State of South East of Nigeria beginning from December 15th to December 30th 2020 was particularly an eye opener for a number of circumstances and experiences.
First, I saw a State that yearns for some forms of governance which at the moment is lacking in a substantial way.
From the Imo State's capital of Owerri to virtually the three Senatorial zones of Okigwe, Orlu and Owerri, there was this atmosphere of a people abandoned to their fate by the elected political office holders who constitutionally ought to provide leadership.
In terms of socio-economic development and infrastructures that should better the living conditions of the residents of Imo State, what you see are aging institutional facilities that have outgrown their relevance and usefulness.
The Federal Roads running through Imo State from Anambra, Enugu and those going to Abia, Ebonyi, Akwa Ibom and Rivers State have become dilapidated and dysfunctional with deadly bumps and craters that have clearly divided these roads into several fractions thereby making commuting on them risky and deadly.
In the area of security, what you see in Imo State are few police and military checkpoints even as the whole of the state is not policed. law enforcement is neither here nor there.
In the strategic area of the education system in place, it is indeed in a very pitiable sight.
Public educational institutions and facilities have become deplorable even as many of the community Schools built through communal self help efforts are also not in their best state of functionality.
Water supplies in Imo State are not easily obtained because it would appear that for the millions of families living in that State, their only means of clean water supplies are the many commercial borehole operators who sell water all over the place.
In the rural communities, Children are seen pushing wheelbarrow and carrying different types of water containers in search of water from a lot of the stagnant streams of water that flow through the different communities and local government areas.
The healthcare system is poor because the primary health care centres are not optimally operational thereby exposing the citizens to avoidable fatalities from usually treatable illnesses such as Malaria, and water born diseases.
I made it a point of duty to interact with as many Children as possible to find out the standards of education they are given.
My findings show that the Society of today is risking the future of our Children and may be breeding future outlaws due to the calculated neglect and cumulative impact of the poor political governance that we see in most of these States not to talk of the Local Government Area Councils that are already destroyed by the overbearing governors who see the Local Councils as cash cows.
As I sat amongst over 120 Children that my family gathered to give them Christmas foods and other gifts such as customised books of the Foundation I set up in honour of my late Father Osonduagwuike OKORIEOCHA Onwubiko, I was privileged to get first hand intelligence showing that the society is deliberately training a lot of outlaws that may decide to take their revenge in the future against the society that today is neglecting them and making them pass through unpardonable and unreasonable deprivation of good sources of water, clean environment for educational training and functional social amenities to aide their balanced growth into productive and useful adults.
Soon after, I ran into a report of a study that depicts the dangers of deprivation and the psychological impact these deprivation and neglect will have on these Children who are currently being victimised by the political governance system that lacks transparency and accountability.
I learnt reliably that experiencing severe deprivation and neglect in childhood can have a lasting psychological impact into early adulthood, according to a unique study which has followed the mental health of a group of children adopted from Romanian institutions to UK families in the 1990s.
Published in The Lancet, this is the first large-scale study to follow a group of children who were subjected to extreme deprivation into adulthood, tracking how their mental health and cognition has developed as a result.
The English and Romanian Adoptees study began shortly after the fall of the communist regime in Romania. Children living in institutions were subjected to extremely poor hygiene, insufficient food, little personalised care and no social or cognitive stimulation.
The study, running since 1990, analyses the mental health of 165 children who spent time in Romanian institutions and who were adopted by families in the UK between the ages of two weeks and 43 months.
In the UK, they joined socioeconomically advantaged, stable, caring and supportive families.
Comparing against 52 children adopted within the UK, the study has followed them throughout their childhood using questionnaires, IQ tests and interviews with the children and their parents to analyse social, emotional and cognitive outcomes at ages 6, 11 and 15.
The latest part of the study followed the adoptees to ages 22 to 25 years old. It includes around three-quarters of the original adoptees -- 39 UK adoptees, 50 Romanian adoptees who had spent less than six months in an institution as children and 72 who had spent over six months.
The above are just few highlights of the study carried out by these psychologists.
From what I saw in Imo state, there is a nexus between the deprivation suffered by little kids to the expansion of armed criminality in the near future.
It's only natural that these kids who are forced to live subhuman lives and attend schools in environment that is not even suitable for lower animals, will certainly revolt against the few elites whose kids attend the fees paying private schools and foreign educational institutions.
I saw something that is sinister. There are kids as young as 5 who are already exposed to hard drugs by virtue of the fact that they loiter around places on the rural settings whereby depraved adults smoke and consume hard drugs. Some of these kids were born by youngsters who deal on hard drugs and so the first natural habitat most of these kids grow up to know are drugs hamlets.
As we know, hard drugs and their intakes has a necessary link to crimes.
Then because there is absence of governance at the Local Government levels in much of the states of the Federation, there is a deliberate failure to activate mechanisms to appropriately guide these Children on the rightness or otherwise of some of the tendencies they notice around them perpetuated by adults.
My observation tallies with a profound body of knowledge contained in the publication titled 'Drugs and Crimes' [email protected] https://www.cliffsnotes.com/study-guides/criminal-justice/crime/Drugs-and-crime .
I will endeavour to narrate their study substantially just to show the urgency of the now for the Nigerian government and the governments at the 36 states to take steps to address these levels of criminal deprivation that millions of Children are forced to suffer as I write. The federal capital territory of Abuja has its own share of rural poverty. I have seen dozens of schools with fallen roofs and dilapidated buildings whereby school children in the area councils are made to attend schools. Most of the area councils lack good and functional healthcare system just as crime rates in those communities are way too high to be tolerated.
On Drugs and Crime the scholars i spoke about wrote that the connection between drugs and crime is reflected in at least three types of crimes:
Drug‐defined crimes, such as the possession, use, or sale of controlled substances, which violates drug laws;
Crimes committed by drug users to get money to buy more drugs or crimes committed by persons under the influence of drugs; and
Organized criminal activities, such as money laundering and political corruption, in support of the drug trade.
Crime, the study argues is associated with drug use, but drugs usually don't cause crime. First, only a small percentage of burglaries and robberies are drug related. Second, studies of high‐rate offenders show that many of them began their criminal careers before using drugs. Most experts agree that even if we could succeed in eliminating drug abuse, there would be only a small reduction in robberies, burglaries, and similar crimes.
On the historicity of Drug laws the study recalls that the first major drug law, the Harrison Act(1914), required persons dealing in opium, morphine, heroin, cocaine, and derivatives of these drugs to register with the federal government. The Comprehensive Drug Abuse Prevention and Control Act (1970) forms the basis of federal enforcement efforts today.
This law sets up five schedules which classify narcotic drugs according to the abuse potential. In 1988, the U.S. Republican leadership stepped up the war on drugs. It passed the Anti‐Drug Abuse Act, which substantially increased the penalties for recreational drug users. Other important federal drug laws include the Crime Control Act (1990) and the Violent Crime Control and Law Enforcement Act (1994). The former doubled the appropriations to state and local communities for drug enforcement and created drug‐free school zones by increasing penalties for drug crimes occurring close to schools. The latter provided $245 million for rural anti‐crime and drug efforts.
On Alcohol abuse and crime, the study highlights that even though the abuse of alcohol is rarely discussed in the same terms as the use of controlled substances, alcohol abuse has serious consequences for abusers as well as the criminal justice system.
First, alcohol, they submitted, is often a factor in the commission of crimes, drunk driving being a prime example.
Sometimes the use of alcohol lowers inhibitions and leads to other, serious crimes, such as criminal assaults.
Second, the processing of alcohol‐related crimes consumes large amounts of criminal justice resources.
For example, between 1970 and 1992 arrests for drunk driving soared 200 percent across the United States.
Today, police make about one million drunk driving arrests annually, more arrests than for any other crime except drug abuse and larceny‐theft. In 1996 police made about 500,000 arrests for public drunkenness, another crime related to alcohol abuse.
These rich points elaborately embodied in the above summation of a study on the nexus between drugs and crime should serve as an eye opener to make the current political elite in Nigeria to effectively take concrete steps to provide leadership in the state's of the Federation.
Leadership means leading by example by avoiding all corrupt practices and abuse of power and to invest in the human capital development of the citizens so the future of Nigeria can be assured. The agencies of law enforcement must not be continually undermined as it were so they are appropriately placed to function optimally.
We must provide good governance today so we reduce the number of outlaws and criminals of tomorrow.
There is need for institutional bodies such as the National Drugs Law Enforcement agencies to be partnered with by States and Local Government Area administrations to begin the process of sensitization of the rural kids on the dangers of indulging in drug habits.
There has to be a deliberate and sustainable programmes from the central government to rescue the rural school system in Nigeria so as to humanize these schools to enable the rural children to get humane educational trainings that meet the demands of the twenty first century World.
*Emmanuel Onwubiko is the Head of the Human Rights Writers Association of Nigeria [email protected] ;www.emmanuelonwubikocom; www.thenigerianinsidernews.com ; [email protected]
Disclaimer:

"The views/contents expressed in this article are the sole responsibility of the author(s) and do not necessarily reflect those of The Nigerian Voice. The Nigerian Voice will not be responsible or liable for any inaccurate or incorrect statements contained in this article."