Osinbajo will become Nigeria's President this year: Ghanaian Prophet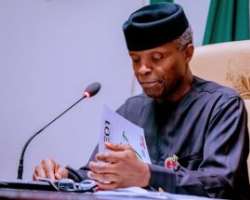 A popular Ghanaian prophet Nigel Gaisie has preducted that Nigerian Vice President, Professor Yemi Osinbajo, will become President before the end of this year, 2021.
The popular Ghanaian cleric, founder of Prophetic Hill Chapel, made the prophecy at his church during the December 31, 2020 watch night service.
The report by BBC (Pigin) did not say what the prophet said would happen to President Muhammadu Buhari, who still two-and-a-hakf gears outstanding on second and final four-year term.
For Osinbajo to become president in the stead of his principal one of the three things must happen: the president is impeached and removed for gross misconduct; or he is declared incapacitated and unable to effectively function in the office the president; or he dies in office.
Prophet Nigel Gaisie released 12 prophesies in all, out of which two concern Nigeria, the second being the one in which he predicted that a "creeping creature" would come out of Ghana and Nigeria and that hardship would increase in both countries as their economies would take a turn for the worse.
He also prophesied that Ghana's opposition leader, former president John Mahama, would replace incumbent President Nana Akufo-Ado.
Among the remaining prophecies are a terrorist attack on America and a stadium disaster in Morocco.
The prophecies as featured by BBC (Pigin English Edition) are follows:
Prophet Nigel Gaisie
De world will enjoy peace, but America will have a terrorist attack
Darkness around de Ashanti Kingdom/Pray for Tepa traditional area and king
Philippines against worst tsunami ever
Paris and America against natural disaster
Morocco – stadium disaster or earthquake
Ghanaian security for be tightened, attack on de security
Famous man of God go die
Floods go happen den kill people, properties for Upper West, Upper East, Ashanti den Greater Accra
Nigeria Vice Prez Yemi Osinbajo go turn Prez
Creeping creature come out of Ghana and Nigeria, dema babies dey gnash teeth. Hardship go happen in Ghana and Nigeria economy
Men of God, accident against man of God from January 1 to January 8
Majority and Minority for Ghana parliament dey wear black. Pray for Ghanaian Presidency, cloud dey hang around am.
Something happen wey bring de whole world to roundtable again
Ghana Presidency, John Mahama dey sit in de office of de President.