IBORI: IS THE BRITISH GOVT PURSUING HER ECONOMIC INTEREST OR A 'CASH AND CARRY AGENT' FOR SELECTIVE POLITICAL/CRIMINAL PERSECUTIONS IN NIGERIA?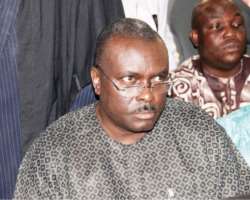 PHOTO: FORMER DELTA STATE GOVERNOR, CHIEF JAMES IBORI.

"The British govt has acted unlawfully and improperly and in a neo-colonialist and bigoted manner. The British Govt through the London Met. Police has allowed itself to be used as a tool in furtherance of the Federal Govt (under President Obasanjo) overtly political objectives apparently without proper understanding of the political implication of its interference…" Prof. Fidelis Odita QC (SAN), Counsel to ex-Governor, DSP Alamieyeseigha. DAILY INDEPENDENT NEWSPAPER, 26/9/2005
"United Kingdom rules the world in a rather subtle way and they are proud of it. … London the Capital of Britain is regarded as the capital of the world. Who is Who in the world out-do and out-bid one another to own properties in London and guest what? The Govt of Mr (Tony) Blair obliges them since it knows the tax on their Properties sustains the British economy" - Nigerian Tribune Newspaper, August 22, 1999
"Mr James (Ibori) has a chequered history. At one time, in the early 1990's, when living in England and working as a cashier, he and his wife were in debt … ; but by 1999 he had risen in the world, and in that year he took office as the Governor of Delta State of Nigeria. It was not long before Mr James came into personal possession of very substantial wealth, running into millions of pounds sterling... these monies or at least part of them were paid into various Bank Accounts in the UK and/or used towards the purchase in this (Britain) country of a number of properties …". Judge Rivlin QC Southwark Crown Court, London.
"Mr. Ibori had a whole host of companies and had gone from 'rags to riches', there is nothing wrong in that... British PM Tony Blair had done just that in the past". Mr Andrew Mitchel, Ibori's London Lawyers reacting to Judge Rivlin's comments on Ibori. 
In 1985, The British govt opposed the request by Gen Buhari/Idiagbon to extradite Alhaji Umaru Dikko from London to Nigeria to face trial on allegations of high level financial crimes and corruption. Thereafter, it also condemned the action of Gen Buhari/Idiagbon to forcefully arrest and repatriate Alhaji Dikko to Nigeria and threatened to severe ties.
There are also increasing disturbing accusations by some high political office holders in Nigeria against the British govt of acting the political scripts of interested incumbent Presidents of Nigeria who disagree with political opponents. Ex- Bayelsa State Gov. DSP Alamieyeseigha even went further to allege that the British govt in the year 2005 conspired with President Obasanjo to kill him because of his support for then Vice President Atiku. Ex.Gov. Joshua Dariye of Plateau State also accused U.K. Now Ex-Gov. James Ibori is accusing the British Govt prosecuting the political agenda of some power-that-be in Nigeria who are angry with the political opinions and decisions he holds in Nigeria especially as it concerns the emergence of President Yar Adua and the ongoing vexed issue of "zoning and power rotation arrangement".
Sahara Reporters, on 7th January 2010, reported that President Yar Adua on Sept, 21, 2009 complained to British Member of Parliament, (Mr Tony Baldry) that the EFCC actions against Ibori in the UK are as a direct result of Ibori's support for him as President. That he also believes the UK Authorities have been enlisted by his political opponents.
There is rising political tension in Nigeria since Nov. 23, 2009 when President Yar Adua took ill and very sadly, till he died on May 5, 2010. Today, our beloved nation has been tore into two strongly opposing political camps, (pro-Yar Adua, pro- Zoning and anti-Yar Adua, anti-Zoning) with some prominent Nigerians now raising alarm of likelihood of another regrettable Civil War or total disintegration of Nigeria. Chief Ibori is no doubt a leading personality in the pro-Yar Adua and Pro-Zoning camp. Infact, his political opponents say and back it with variable facts, that he installed Alhaji Umaru Yar Adua President of Nigeria and therefore became one of the most influential Nigerian in the Govt.
But the British govt has continued to deny this and insists that she remains non-partisan in Nigerian politics. "The British Govt is not involved in partisan politics in Nigeria, but would work closely with any govt whose Political Party emerged as winner in coming election in Delta State" Sir Richard Grozny, former British High Commissioner to Nigeria said on March 9, 2007 during launch of Dr Uduaghan governorship campaign.
In the light of the above and worried by the increasing political and inter-ethnic tensions now being generated in Nigeria as a result, it has become very imperative for me as a Nigerian to ask the Big Question: Is the British govt pursuing her economic interest or a "cash and carry Agent" for selective political/criminal persecutions in Nigeria?
As usual, I shall present some facts and leave the reasonable reading Nigerian public to decide on the real motive of the prosecution of Chief Ibori by the British Govt. But before I do so let me state again that I will be the happiest man if they get all the stolen funds of exploited people of Delta State returned in full to Deltans and help stop continued looting of Nigerians' funds to U.K, U.S, Dubai, South Africa, Europe, etc. But I know, this, the UK will never do based on the fact that the growth, development and survival of their nations and her 55m citizens depends largely on these stolen and laundered money from Nigeria and other Natural Resources-Rich Africa nations and other "third" world countries.
Before I proceed, let me also state for the record that I am not at all, attempting to defend Chief Ibori for looted funds of the good people of Delta State during his regime. It hurts me than anyone to see how my beloved good, hard working, resourceful and hospitable 5m people of Delta State have become exploited, dehumanised and deprived today as a result of maladministration and primitive looting of our common wealth by a few unrepentant Brethren saddled with managing our common wealth. I also know as a fact that Ibori has never on moral ground denied these wrongdoings even though he legally does now as expected. He has severally also condemned the lootings while as governor. Moreover, I have never met with or collected a kobo from Chief Ibori. I even turned down opportunities to meet with him as Governor while I was the President of Delta State Post Graduate Students Association of University of Port Harcourt (2002 – 2006). I was a consistent and a leading unrepentant critic of his Administration and till date. I have also never collected a kobo from Gov. Uduaghan of Delta State; rather, I also remain a leading critic of his Administration. I am not a PDP member and will never be. My only reason for these "Pro-Ibori" publications as I am now accused of, is the search for the Moral Truth.
The U.K govt charges against Chief Ibori and Associates are that between March 2004 – September 2008 while he was Gov. of Delta State, he transferred the total sum of about £100m allegedly belonging to the people of Delta State through some U.K Banks Accounts operated by his wife, sister, friends and Companies. They also accused Gov. Uduaghan then SSG, Delta State, of assisting in approving payments of these funds through inflated and or fictitious Contracts with which Ibori's family bought expensive properties and lived flamboyant lives in U.K. That Chief Ibori was a very poor man and in debts before he became the governor in 1999. Furthermore, they allege that they became curious and worried when they observed that immediately he became governor, he paid off the debts and bought properties in London. In summary, the U.K govt confesses that she has been aware of alleged looting of Delta State since May 29, 1999.
HERE ARE SOME FACTS ABOUT THE ISSUES
1. The British govt never raised any serious issue of money laundering and looting against Ibori while he was governor (May 1999 – May 2007) but directly and/or indirectly approved and supported his Policies and Actions. In appreciation of his Leadership, I believe, the British Govt through her High Commissioner to Nigeria, (Sir Richard Grozny) accepted to attend only the launch of Dr Uduaghan Governorship Campaign in Lagos on March 9, 2007, an endorsement for IBORI/UDUAGHAN CONTINUITY Govt of today. 
2. The Money Laundering Charges is only for March 2004 – 2008 and the trial of his Associates commenced in November 2007 after he stepped down as governor in 2007. The high intensity and unusual fast pace and commitment now brought to bear against Ibori jointly by the EFCC and British govt also began only after the death of Pres. Yar Adua.. 
3. Prior to December 2009, the U.K Courts adjourned hearing in the London trials pending the Judgement of the Federal High Court Asaba on the EFCC 170-Count Charge against Ibori expectedly to convict Ibori to help fortify their Case. Disappointed that the Asaba Judgment didn't go their way, U.K Southwark Court Judge, Christopher Hardy, said "I want to make it absolutely clear that Nigeria's Judiciary was usurped". IS THIS BIAS?
4. Judge Christopher Hardy of Southwark Crown Court on June 7, 2010 before sentencing Ibori's sister and friend to prison, said, "a significant number of the Jury (his co-Judges) who indicated UNUSUAL request to be present at this sentencing. I granted their request and gives permission for the Jury to be brought into the courtroom. I want to make it absolutely clear that Nigeria's judiciary was usurped." IS THIS UNUSUAL PRACTICE?

5. The British govt is aware that in 2007, Ribadu-led EFCC indicted almost all the 36 ex-governors, some of their wives and Associates for financial Crimes and looting of Billions of Dollars, many of them are today occupying higher political offices in Nigerian and freely travelling in and out of U.K for businesses, investments, shopping, weekends and holidays even though they are not protected by Constitutional Immunity yet the U.K govt arrested and detained governors DSP Alameyieseigha and Joshua Dariye in 2005 for alleged Money Laundering despite their Constitutional Immunities then. IS THIS SELECTIVE?
6. It was after the absence of President Yar Adua and emergence of President Jonathan that the EFCC in controversial manner, declared Ibori wanted while the U.K govt immediately followed using the Interpol to arrest him in Dubai and now intensifying efforts to extradite him to London to face trial having also only on June 7, 2010 sentenced his sister and friend to 5 years in prison. Most of his Political Associates have also recently been sacked.
7. Some prominent Deltans who now champion the prosecution and persecution of Ibori have clearly stated that their actions are solely motivated by their anger over what they claim was his decision to impose Dr Uduaghan, as governor and also for alleged opposition to the emergence of His Excellency, Dr Goodluck Jonathan as Acting President during the period President Yar Adua took ill. By all definitions, these are clearly POLITICAL MOTIVATED ACTIONS.. Please refer to Punch newspaper of May 3, 2010.
8. The U.K govt has since August 2007 frozen all London Bank Accounts and Assets worth over $35m belonging to Ibori in the same manner trillions of naira stolen and deposited in London by ex-Nigerian Military Generals and politicians that have been forfeited to U.K govt rather than returned to the over 140million exploited and dying masses of Nigeria. On June 7, 2010, the first Application made by the U.K lead Prosecutor, Sasha Wass QC was for the Court to grant that all Assets belonging to Ibori should be confiscated by U.K govt. 
9. Chief Ibori is also said have recently turned to Dubai where he has huge economic investments like other rich Britons and Nigerians. It is also reported that the U.K govt is worried that most U.K local and foreign investors are turning to Dubai for Investments.
10. Russian billionaire, Roman Abramovich, 50th richest person in the world and the 2nd richest person living, worshipped and protected within the U.K was a poor man who only few years ago became rich from allegedly stealing Russians public wealth and govt property and used his high connection with Russian Presidents Yetsin and Putin to acquire huge controlling interest in large Russian Oil and Aluminium companies and other economic interest. He now freely lives and invests in U.K. In June 2003 he bought over companies that control Chelsea Football Club. As of May 2008, he had spent about £600m on the club. He became the world's greatest spender on luxury yachts, one of which cost him about US$1.2 billion. He owns private aircrafts including Airbus A340-300. He also own helicopters in West Sussex, UK. WHY NOT ARREST HIM LIKE IBORI?
11. On the other hand, Russian Billionaire Mikhail Khodorkovsky, the wealthiest man in Russia, 16th wealthiest in the world, also allegedly stole Russians oil wealth was arrested and sent to prison by President Putin because he supported and sponsored political parties opposed to Russian's President Putin's. He has been in prison for years and till date.
12. U.S, U.K E.U in response accused and condemned Russian President of "selective" prosecutions against Khodorkovsky. On Nov. 29, 2004, the Council of Europe Parliamentary Assembly (PACE) said "the Assembly considers that the circumstances of the arrest and prosecution of leading yukos Executives (includes khodorkovsky) suggest that the interest of the (Russian) State's action in these cases goes beyond the mere pursuit of criminal justice, to include such elements as to weaken an outspoken political opponent, to intimidate other wealthy individuals and to regain control of strategic economic assets."
13. Efforts by Nigeria to get the British Govt to return our stolen trillions of naira have proved abortive. U.K Banks have refused and their actions are backed by U.K Laws.
14. U.S, France, Germany have arrested and punished their citizens and companies in Nigeria over bribery and corruptions but the British Govt hasn't done same to her Shell (SPDC) and British companies. NO CORRUPTION IN SPDC AND U.K COYS?
The Big Question: Is the U.K govt really interested in helping our "War on Corruption" or only interested in encouraging inflow of our stolen wealth into her economy and confiscating them rather than help repatriate them and stop further looting? What about the proposed N10b Nigeria 50th INDEPENDENCE Jamboree now taking place in London?
Comrade Igbini Odafe Emmanuel (ENGR) was the Governorship Candidate of Peoples Redemption Party, (PRP), Delta State, April 2007.
Disclaimer:

"The views/contents expressed in this article are the sole responsibility of the author(s) and do not necessarily reflect those of The Nigerian Voice. The Nigerian Voice will not be responsible or liable for any inaccurate or incorrect statements contained in this article."
Articles by thewillnigeria.com