50TH ANNIVERSAY: N16B Was Actually Budgeted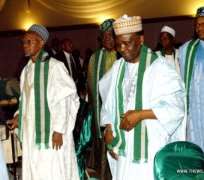 ABUJA, July 04, (THEWILL) -The last has not been heard of the actual budget presented to the National Assembly towards the 50th Independence anniversary celebrations because contrary to reports that the Federal Government presented a budget of ten billion naira (N10 billion), figures emanating from the Upper Chambers indicates that the actual budget figure is in excess of N16 billion, THEWILL can report on good authority.
A breakdown of figures obtained from the Policy and Legal Advocacy Centre (PLAC), of the Supplementary Appropriation Bill 2010, submitted by the Executive and published in the National Assembly Journal of 24 June 2010, reveal that allocations were made under various heads and sub-heads that add up to the said figure of N16.37 billion!
Nigerians from all spheres of life including Civil Society Organizations (CSOs), opposition parties and legislators, even from the ruling Peoples Democratic Party have variously criticized the monumental waste towards the Nigeria @ 50 celebrations.
As part of the proposals, the office of the Secretary of the Federation will squander N6.396 billion (precisely N6, 396,700,000) on frivolous items like, Website design/hosting - N6 million, Anniversary Logo- N30 million, Publication of Compendium on the executives, legislature and the judiciary- N600 million, International Friendly Football Match- N200 million, Anniversary Parade, aerial display - N950 million.
The budget also considers a vote of N100 million to replace the carpets at the International Conference Centre, while special Nigeria @ 50 celebration uniforms will be produced for the security services at N1 billion.
Construction of a Golden Jubilee plaza will gulp N2.65 billion while its mounting will cost N10 million. Monuments, sculptures, towers, gifts, souvenirs and the National Stadium velodrome will cost Nigeria's taxpayers about N1.5 billion.
The budget also includes a line item to spend N250 million on what it calls "equipment for safe aircraft parking at 5 airports" while the sum of N1 billion is to be spent on provision of additional parking at the Abuja airport.
The Abuja airport, according to the analysis will be "renovated" with the sum of N1.3 billion.