The Oldest Monarch In Imo State, HRH Eze (Dr) M C Ukeje Of Udo Autonomous Community In Ezinihitte Mbaise Local Government Area Of Imo State Dies... The ICM-UK Group Condoles With Its Secretary General.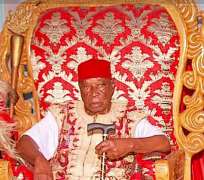 The Association of Igbo Councillors and MPs in the United Kingdom commiserates with our member and esteemed Secretary General of ICM-UK, Hon. Endy Ezenwata, on the passing on to glory of the Traditional Ruler of his community, HRH Eze (DR) M C UKEJE, the Eze Udo Abia IV of Udo Ancient Kingdom in Ezinihitte - Mbaise LGA of Imo State, Nigeria.
Speaking of the departed King, Hon. Ezenwata stated that he was a very well respected and God fearing man who ruled his community with peace and harmony and brought some meaningful developmental projects to his people during his time on the throne.
He pointed out that HRH Eze M C UKEJE, at 95 years of age, was the oldest reigning monarch in the old Imo State of Nigeria (which comprises the present day Imo, Abia and parts of Ebonyi State) before his death in June of this year.
He also confirmed that HRH Eze M C UKEJE was coronated as the Udo Abia IV of his Ancient Kingdom and community in 1977, during the administration of Commander Ndubuisi Kanu (later Retired as Rear Admiral Kanu) the then Military Administrator of the Old Imo State; making him the longest serving traditional ruler in UDO AUTONOMOUS COMMUNITY and indeed the whole of Imo State.
It was confirmed that the final Homecoming ceremony of the late Monarch has commenced and he is due to be buried in his ancestral hometown of Udo Ancient Kingdom on Friday the 18th of December 2020.
The Coordinator General of the ICM-UK, Cllr Nneka Keazor extended the group's condolence to the entire family of the late Traditional Ruler and the entire people of Udo Ancient Kingdom in Ezinihitte Mbaise LGA of Imo State.
She ended by praying for the soul of the departed Eze Udo Abia IV to be granted eternal rest in peace by the Almighty God in heaven.
Signed :
Cllr Nneka Keazor
(Coordinator General ICM-UK)