Gov. Umahi After My Life - Senator Obinna Ogba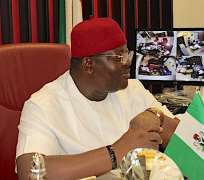 The senator representing Ebonyi Central in the Senate, Obinna Ogba, on Thursday, alleged that the Governor of Ebonyi State, Dave Umahi, was threatening his life.
Ogba made the allegations at a press briefing in Abuja. He said he decided to cry out following open threats against his person by the governor.
Ogba called on Nigerians to hold the governor responsible for any mishap that might befall him or any member of his family.
He claimed that the governor had openly accused him and three other persons of the sponsorship of cultists and Indigenous People of Biafra members to destabilise the state.
Ogba said, "In a national media briefing held in Abakaliki on Friday, November 27, 2020, the Governor of Ebonyi State, Dave Umahi, made very damaging and unfounded report against my person and three other very eminent and highly revered persons from Ebonyi State.
"However, the closure of Kingdom Model Secondary School by the government (a private school established since 2004) owned by the immediate past PDP Chairman of Ezza South L.G.A, Friday Agbom (who is also my legislative aide), is happening on a flimsy excuse that he (Agbom) organises cult activities there (in the school).
"It is very unfortunate that innocent and harmless students of the above named school have been forced to taste the bitter pills of Umahi's maladministration, not minding the fact that the students just came back from a long COVID-19 induced break and have no business with political intrigues in Ebonyi State.
"Speaking for myself and by way of rebuttal, I wish to state categorically that I have never harboured, recruited, induced or engaged cultists for any purpose whether political or otherwise, in all my personal and public life."
However, the governor, who spoke through his Commissioner for Information and State Orientation, Orji Uchenna Orji, has described Ogba's allegations as baseless.
Orji said, "This statement of Distinguished Senator Obinna Ogba, with due respect, is a political trick from a rejected representative, who is crying foul over non-existent and imaginative allegation."