Treating The Wife As A Radiant Bride!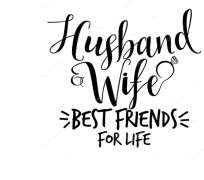 Whichever way one might look at it, the recent series of wife-beating across the country boggles one's mind and creates a feeling that somewhere, marriage on the side of wives is not given the attention it deserves.
In the Christendom and even in African tradition, working towards a lasting and blissful marriage is a collective responsibility of the husband and wife, and it is effeminate for a husband to molest his wife, while on the other hand, it is disrespectful and a taboo for the wife to be talking back at and talking down on her husband.
Analysed from the foregoing perspective, it is not an exaggeration to conjecture that when the foregoing somewhat matrimonial ethics are wholeheartedly adhered to in marriage that frequent disagreements and quarrelling would be completely absent in such marriage.
It is not an exaggeration to say that news consumers are by each passing day hit with news coverage that pertains to wife beating or molestations.
For instance, on Sunday, precisely on December 7, 2020, a video emerged on social media showing a woman, Mrs Ifeanyinwa Angbo, claiming that she has been under prolonged assault by her husband, Mr Pius Angbo.
Mrs Angbo said in the video that she is a medical doctor and has been married to Mr Angbo from Benue State for six years.
According to her, Mr. Angbo, a journalist and the correspondent of Channels Television in Imo State, has turned her to a punching bag, making her life miserable in the marriage, and also explained in the video she recorded after the alleged assault by her husband that her only offence was to advise him to stop spending lavishly on women, who ostensibly would be his concubines.
She further said the reason for the piece of advice was to enable him cater for his four children as his spending on his alleged flings could deny the children proper care.
In as much as one can recall in this context that not few wives are suffering under intense battery and assault in their matrimonial homes, and that some had unfortunately died from domestic violence, it will not be out of place to count Mrs. Angbo lucky or rather fortunate.
Just as an African proverb says that "If one tells of the place where the rain met him, he is given a place to warm up by the fire". Meaning: If one explains his condition (situation) one does for him what ought to be done for him; that is, he is treated as he ought to be treated, and receives the help he needs. Against the backdrop of the interpretation of the foregoing proverb, not all women have the courage and humility to shout out to the world, as Mrs. Angbo did, about what they are facing in their matrimonial homes.
As God would have it, her voice was heard by no less a person than the Benue state governor, Samuel Ortom who reconciled her with her husband, Mr. Pius Angbo.
As gathered, Governor Ortom who met with the couple, counselled them to always settle their differences amicably and shun the temptation of engaging in violence.
He stated that as a young couple with great potentials, the husband being a versatile journalist and the wife a medical doctor, there was the need for them to foster a strong union to serve as models to others.
Mr. Pius Angbo in a reaction said he had apologised to his wife over the assault on her, stressing that he also sought the forgiveness of the entire women folk and would make amends going forward.
On her part, Dr. Angbo said she had accepted her husband's apology and forgiven him, saying their children are still tender and they needed prayers to grow stronger in love and nurture their kids to maturity.
She appreciated Governor Ortom for taking time out of his tight schedule to make peace between them, saying the Governor's intervention was fatherly and a demonstration of love.
For those of us in the Christendom, Does the Bible allow a husband to treat his wife any way he decides is best? Does a Christian wife have to submit to her husband at all times? Answers to the foregoing questions that have been the crux of matrimonial issues today have been provided by Apostle Paul who said, "Now as the church submits to Christ, so also wives should submit in everything to their husbands". (Eph. 5:24).
In a similar admonition, Paul said, "However, let each one of you love his wife as himself, and let the wife see that she respects her husband". (Eph. 5:33)
While some Christians have wrongly used these Bible verses as an excuse for husbands to mistreat their wives, the verses actually communicate the vast responsibility a husband has to care for his wife and the wife's duty to honour her husband.
Without any iota of exaggeration, Ephesian 5:25-29 as a scriptural injunction explicitly in the bible urged a Christian husband to love his wife as he does himself and always protect her from all harm even as Colossian 3:19 in the same vein urged him to do his best to "nurture and cherish" his wife in the love of Christ as he would his own flesh and tend to her spiritual, emotional, intellectual, and physical needs.
Also, a Christian husband should always respect his wife. When Paul tells wives to submit to their husbands in Ephesians 5:24, he does not mean that wives must endure abuse, neglect, or mistreatment of any kind by their husbands. Rather, Paul is reminding the church that a wife is under the leadership of her husband as clearly admonished in Ephesian 5:23. To this end, as clearly stated in 1 Peter 3:7, it is expedient that a Christian husband must always show his wife honour, both publicly and privately, and protect her dignity and reputation from any and all slander.
Still in the same nexus, a Christian husband should at all times provide his wife with spiritual leadership. Even though his wife may be well equipped in biblical doctrine and application and spend a considerable amount of time instructing their children in the faith, a husband must be diligent to oversee and guide the spiritual training of his family (Eph. 6:4).
Beyond the foregoing caring attitude expected of a husband to his wife, a Christian husband should be attentive to his wife. He should always do his best to set aside a substantial amount of time to be with his wife, enjoy her company, and seek to understand her better. In doing so, a Christian husband and his wife can grow closer to each other and build a stronger marriage that honours God in all as explanatorily put in Proverbs. 5:18–19 and Eph. 5:31.
Still in the same vein, a Christian husband should always be faithful to his wife. Even when times are difficult due to financial, emotional, or physical challenges, a husband's personal happiness must always be subordinated to sacrificially loving his wife "as Christ loved the church and gave himself up for her" in line with Ephesians. 5:25 and also 1 Cor. 7:1–5. In doing so, he honours not only his wife but also his Lord.
Finally, a Christian husband should enjoy his wife. She is a precious gift from God given to comfort, support, encourage, and love her husband as instructed in Prov. 18:22; 31:10–12; 1 Pet. 3:1. The more a husband values, cherishes, and nurtures his wife, the more she will reflect God's love as his radiant bride.
Disclaimer:

"The views/contents expressed in this article are the sole responsibility of

Isaac Asabor

and do not necessarily reflect those of The Nigerian Voice. The Nigerian Voice will not be responsible or liable for any inaccurate or incorrect statements contained in this article."
Articles by Isaac Asabor