Forbes names Okonjo-Iweala as Forbes Africa-CNBC African of the Year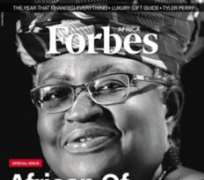 Forbes has announced former Nigeria Finance Minister and former Managing Director of the World Bank, Dr Ngozi Okonjo-Iweala, as the recipient of the 2020 African of the Year award.
Okonjo-Iweala who emerged top contender for the post of the Director General of the World Trade Organisation is reverred acriss the globe.
About a month ago, the Chair of the General Council of the World Trade Organization, Dr David Walker and Facilitators of the process for the Appointment of Directors-General formally submitted her name as the WTO DG designate – the candidate who has garnered the most support to head the organisation.
She would been confirmed elected to that position but for the action of the United States which blocked that move.
It is believed that the incoming administration of Joe Biden in the US is likely to be faviurably disposed to her being elected to that position.
"The 2020 #AfricanOftheYear Award honoree is…Congratulations to Dr. @NOlweala! Board Chair @Gavi; Board Chair @ARCapicity, gracing the cover of @forbesafrica," Forbes tweeted on Tuesday.
Onjo-Iweala in her reaction tweeted, "Thrilled to be named Forbes Africa-CNBC '2020 African of the Year' following in the footsteps of my great brothers Paul Kagame and Akin Adesina."