DR Congo oil tanker blaze 'kills 220'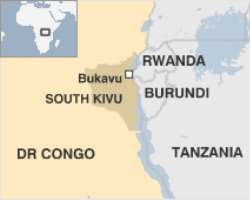 At least 220 people were killed in the Democratic Republic of Congo when an overturned oil tanker exploded and set fire to parts of a village.
Scores more were injured in the accident in Sange, near the border with Burundi.
Some of those who died were trying to collect leaking fuel, but others were trapped inside buildings, including a cinema, by the fire.
UN peacekeepers joined rescue efforts to help evacuate the injured.
Eyewitnesses said the fire engulfed dozens of houses.
"People tried to escape but were caught by the fire and reduced to ashes," Tondo Sahizira, 28, told AFP news agency.
'Terrible shock'
The accident happened late on Friday in Sange, about 70km (40 miles) south of the town of Bukavu in South Kivu.
FUEL TANKER DISASTERS
Continue reading the main story
October 2009: At least 70 people burnt to death when tanker explodes in Anambra state, Nigeria, setting fire to minibuses
November 2008: Tanker overturns and explodes in Ghana, killing at least 22 as people scoop up fuel
August 2008: Similar incident kills dozens of villagers in explosion in northern Cameroon
January 2008: Dozens of people reported dead as tanker explodes near Port Harcourt, Nigeria
March 2007: Up to 100 dead in blast after trying to collect fuel from broken-down tanker in Nigeria's Kaduna State
The truck, travelling from Tanzania, overturned and began leaking fuel.

"Petrol began to leak out but instead of fleeing people came to collect the fuel," Mr Sahizira said.

"A few minutes later there was an explosion, flames burst from the truck and spread very quickly."

Several homes with thatched roofs were engulfed in flames, as was the cinema where a crowd had gathered to watch the World Cup.

Madnodje Mounoubai, a spokesman for the UN peacekeeping mission, said the death toll could rise.

"Right now, we are talking about 220 dead and 111 wounded, but this is not the final toll. This is a very fluid situation," he said.

The UN corrected an earlier report that five peacekeepers died and now says none were killed.

Peacekeepers helped evacuate dozens of the injured to hospitals in towns of Bukavu and Uvira. Congolese troops have also been sent to Sange help survivors.

Jean-Claude Kibala, South Kivu's vice-governor, said scenes in the village were "terrible".

"There are lots of dead bodies on the streets. The population is in terrible shock - no-one is crying or speaking," he said.

Local officials told the BBC that some of the victims had already been buried in mass graves outside the village.