TOURISM, OUR GREATEST ASSET – RUNSEWE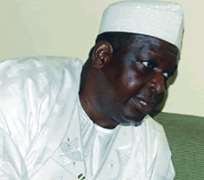 Runsewe
At every event he attends, Otunba Olusegun Runsewe usually stands out in his flamboyant Nigerian attire. He is easily sighted, owing to his height and huge frame. But as the Director General of the Nigerian Tourism Development Corporation (NTDC), Runsewe goes by anything that would promote Nigeria through tourism.
Beyond this, however, the DG, who simply described himself as a Nigerian citizen always, offers support to that would help launder the Nigerian image at home and abroad.
He spoke to Saturday Sun recently on diverse topics affecting Tourism in Nigeria.
Some people do not pay or underpay tax. What are your views on taxation and the arts?
It is probably in this part of the world that we don't even understand the whole concept of taxation. Most of our artworks needed to be taxed, as it would add value to the end users and also the producers. Tax usually adds value to artistic products in a way that the works contribute to the economic growth of the country. But an average Nigerian does not understand the concept of taxation. Without tax, government cannot provide all the necessary infrastructure and amenities.
So to me, the Federal Ministry of Tourism, Culture and National Orientation has organised the stakeholders' forum to review Section 4 of the National Culture Policy. It held at the time it was most needed. The workshop/seminar has come at the right time. I want to believe that if, at every stage of our lives, we allow tax to play its normal role, there would be room for more employment, expansion and creation of opportunities for the people.
Tax is like insurance, and people should know the importance of insuring their properties. In most developed countries, there are some stringent laws concerning things you must buy and you must insure. Even people's houses must be insured against fire or theft.
Is there any policy on culture?
The issue of implementation is the task of the relevant agencies both at the private and public sectors. To be modest, a few years ago, who knew about tourism in Nigeria? But I came on board and have been able to drive tourism, but all I needed was the political support, which I am now getting. So it is no longer business as usual, if we hold people accountable and responsible for jobs given to them, they would know when they didn't perform and that there should be changes. So the implementation lies on the hands of the implementing agencies that must ensure that if they fail to get the policy implemented, posterity would not forgive them.
How do we use culture to promote tourism?
Culture is one of the contents that tourism uses to promote and bring more tourists to Nigeria. When the tourists come, there must be something they are coming to see. This is where culture plays a major role, so culture and tourism work together. For example, in South Africa, their tourism board markets every aspect of their cultural content, so they have educational tourism, sports tourism. To me, one of our strongest treasures needed to promote tourism is the content of culture.
What are your priorities on tourism?
When I got to South Africa, it was easy for me to build a Nigerian village because I already have the experience; we did a similar thing in Argungu, with the Fish House and in Igboukwu, Anambra State, with the Yam House. Today, we have The Nigerian Village in South Africa specifically to promote football. To a large extent, we must understand that football, which is played on the field for less than two hours, has to be supported by other activities. We felt that after spending two hours out of 24 hours in a day to watch football, there was need to use the remaining 22 hours to create leisure, entertainment and other cultural contents to make people comfortable. Supporters and followers of football don't play and they need some level of relaxation after that. The World Cup started in 1930, in 1938, there was a new departure from the usual leather ball being played on the filed. In 1948 in Hungary, there was also a departure as the World Cup was used to promote the strength of their country; so I now see that from 1930 till date, it was the first time that the World Cup came to Africa.
So I felt we should use opportunity of the World Cup tournament to promote and showcase the best of Nigeria to the world.
Today, I am extremely impressed and happy that Nigerians and other Africans in the Diaspora as well as other Africans, came together to say that they felt like being Nigerians when they saw the village in South Africa. Most of the football matches played during the tournament were watched there and we saw that as an opportunity for us to start building a new image for ourselves as a people.
What is your assessment of Nigeria's outing at the World Cup?
The performance of Nigerians and the attitude of Kaita provide the opportunity to have internal reflections. This is because we have Kaita in almost every sector of our lives. It is a time for us to become conscious of our wrong actions and prepare for a better future. Kaita has done his and that has gone. The Super Eagles recorded one of Nigeria's worst outings in the history of World Cup and I think time has come for us to reflect, look inwards and correct the damages or create some damage controls for the past deeds.
If we continue to shout about Kaita in the next 20 years, it won't solve our problems. World Cup holds every four years; so it is time for Nigerians to start preparing now for the next World Cup. Anything short of that would drag us back and we would start telling the same stories and it would be unfortunate that over 150 million Nigerians would again be having unnecessary hypertension anytime we play international football matches.
One of the major factors that unite this country is football and whenever there was a disappointment, everywhere would be quiet. Also our sports administrators should stop age cheats. There is no way an old man would run through a market place that you would not need an ambulance, but a younger man would do it with ease.
It is understood that NTDC has training programmes. What is this about?
The Nigerian Tourism Development Corporation (NTDC) is the umbrella body; we know that we need training for practitioners and stakeholders. The kind of training we would bring out will determine the kind of facilities that we have on ground. A lot of people just jump into tourism issues without understanding what to do. If you give the kind of training that hotels, like Southern Zone, Hilton International, Nobitel International give to their staff and we are able to pay good salaries, the sky would just be the limit. But soon I hope to bring up a new focus in this area, in terms of facilities that we have, and the kind of services that we should render.
How did you become a tourism promoter?
I believe the job I am doing now is a divine calling. It is beyond any human imagination. Sometimes the ideas come and God guides me that whenever I implement them, they just succeed. I did not attend any school to study Tourism, but as a trained journalist, I believe I would always excel in whatever project I'm saddled with.
What are your challenges?
I must thank President Goodluck Jonathan, the Minister of Tourism, Culture and National Orientation; Alhaji Abubakar Sadiq Mohammed and other top government officials who have supported the NTDC. I was amazed when the Secretary to the Federal Government (SFG) said recently that if he is no more in government, he would go into Tourism. I was extremely impressed by his statement. That is to say that if a man at that level is talking about tourism and he wants to go into it after retirement, then there is hope for Tourism in Nigeria.
The other challenge is that people always say there is no money, but government cannot give you everything you want so you have to perform and work to a level that government would be convinced that even if they add more, you can deliver. I thank government but if there is more political support, it will help us.
What happened to Abuja carnival?
Government never asked me to hands off the carnival. They even called me twice to continue to anchor it. But as an individual, one gets to a level in life that one outgrows some products and there is need for others to take over. You cannot be there forever. I have done the carnival for three years and I know what I should do now is to operate behind the scene as a kingmaker. But we expect that the people there now should appreciate the leadership role that we have played, this would even add more to what they are doing and make it better.
We must start to believe in Nigeria and the fact that one person cannot be in a position forever. One needs to be there for some time, while others would take over and so, it continues to go from one person to another.
But as far as Abuja Carnival is concerned, government initially said after five years, it should be private sector-driven, but there is nowhere in the world where government can come out with a beautiful programme, like the carnival that government would not be fully in charge. The problem however is that everybody comes and claims to know too much but if we allow those who know better to advise us and give the right direction, then we would have less problems.
What would you say about Nigeria at 50?
As the Deputy Chairman of the Nigeria at 50 celebrations, the event is worth organizing. Over 17 countries in the last three years have celebrated their jubilee. Nigeria cannot be out of this irrespective of our differences, religious beliefs and levels of understanding. We are still one and that alone is worth celebrating, so I totally agree that we need to celebrate.