Igbos Urged To Save Their Language From Extinction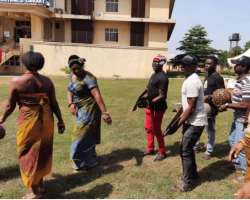 Igbos in Nigeria and in diaspora have been urged to value, cherish and promote the Igbo language, to save it from going extinct before the nearest future, as predicted by the UNESCO.
The founder of Otu Sụwakwa Igbo Prof. Pita Ejiofor (Chairman of the Occasion) made the call while speaking at a one-day event organised by Anambra State Library Board, for promotion and sustenance of Igbo language and culture.
Narrating his experience and how he embarked on Igbo language promotion missionary journey across the various dioceses in the State in 2012; Prof. Ejiofor who is also a former Vice Chancellor of Nnamdi Azikiwe University, Awka, decried the rate at which Igbo people ignore their language these days and delight in speaking English and other people's languages.
He opined that it is such things that account for greater reasons for the rueful downfall of Igbo language. He further noted that promotion of Igbo language should be a duty for all and sundry, even as he appreciated the State Library for organising such laudable event. He equally pledged that he and his brainchild, 'Otu Sụwakwa Igbo' will never relent in contributing their best in the promotion of Igbo language and culture.
In her opening remarks, the Director, Anambra State Library, Dr. Nkechi Udeze said they initiated the event to contribute their own quota, as a public library, in the promotion of the dwindling Igbo language, further noting that they will henceforth mark the event annually.
She condemned the lachrymose acts of some teachers, schools and Igbo parents who do not speak or allow wards to speak Igbo language to their schools and families.
Dr. Udeze who highlighted the importance of knowing and mastering one's own language, also called on the relevant authorities in the State to start monitoring the implementation of the State Government's directive of wearing Igbo attire and speaking Igbo language every Wednesday in all public schools and offices in the state.
On his own part, the Traditional Ruler of Nibo, Igwe Michael Chukwuemeka Ngene (Ezeike the IV) urged every Igbo person in position of authority anywhere in Igbo land and beyond to always speak Igbo language to Igbo people under them, and regularly use the language, so as to preserve and sustain it.
Contributing, the Chairman of Ohaneze Ndi Igbo, Anambra State Chapter, Chief Damian Okeke-Ogene decried the rate at which Igbo language and certain Igbo cultural heritages that are going extinct, due to negligence and unsupposed imitation of the foreigners by the Ndi Igbo, both in Nigeria and in diaspora. He called for regular retraining and increment in the salaries of Igbo language teachers, even as he advised the rich to also support the promotion of the language and culture.
Earlier in her paper presentation on how to promote and sustain Igbo language, Prof. Nkechi Nwokoye of Nnamdi Azikiwe University, Awka, enumerated Igbo families, schools, churches, markets and other places of social gathering as some of the critical strongholds where gospel of Igbo language promotion should be preached and practiced, as the language is not regularly spoken in those places these days.
In their separate speeches, the Senior Special Assistant to the Governor on Secondary Education, Dr. Paul Ifeanyi (JP) said the state government has the interest and welfare of Igbo language teachers at heart, and called for establishment a resource centre for Igbo culture and archives in the state; while the Permanent Secretary of the state's Ministry of Information and Public Enlightenment, Mrs. Oby Umeadi appreciated the library for initiating such wonderful event.
Among others, the event themed "Asụsụ Igbo Ga-Adịgide" and which held at the premises of the Anambra State Library in Awka, featured various cultural performances, Igbo language spelling bee, lectures, speech on why Igbo language fails (by Michael Ogbonnaya), Igbo language reading and writing competition for primary and secondary schools, ogene cultural dance, among other cultural displays.