The Death Of Ali Muhammed Kwara Marks The End Of An Era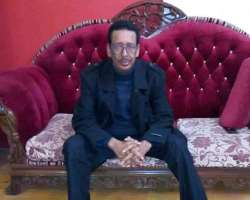 The death of ALI MUHAMMED KWARA marks the end of an era in crime control and prevention in Nigeria. I jokingly addressed the late Ali Kwara as "half-jinn, half-human." There is no remarkable hunter in the recent history of Nigeria like him. This extraordinary man was not only a hunter. He was a contractor, thief catcher, a strong believer in God, a family man, a friend to the poor, a confidant to people in power and the wealthy in the society.
Ali Kwara, aka Baushe, was my classmate in form three at the famous Government Secondary School (GSS) Azare in 1981. Although he was older than most of his classmates, he related well with all of us as friends to his younger brother, Usman Muhammed Kwara.
My younger brother, Musa Babayo Mustapha describes late Ali Kwara as a fearless person who "possesses the looks of a lion." Kwara was indeed an uncommon hunter who could not flinch from a roaring lion. He was a stupendously rich man who sacrificed all the comforts of life to live the life of an eccentric hunter. He prepared to live in the jungle where he would hear the humming, thrumming, buzzing and chirping of Animals, insects and birds, rather than live in a house that provides all the comforts money could afford.
He prefered the smell produced by bush Flowers, decaying vegetation, soil, wood, and leaves than the scents of Les Lames Sacrees de Thabes, Channel, Clive Christian, Hermès 24 Faubourg and Caron Poivre put together.
I had the opportunity to discuss Kwara's prowess in combating violent crime in northern Nigeria in October, 2000, when he visited our house in Azare to condole my family over the death of our father and our uncle, who departed the world the same week.
During the more than two-hour period I engaged him on that day, he told me about his encounter with Alin Barkeji, a notorious criminal who terrorized Azare and its environs in the late 90s. At the time, there were dozens of teams of armed robbers operating along Azare Portiskum road, Azare Bauch road, and Azare Jigawa to Kano road. Alin Barkeji belonged to one of the teams who attacked and killed Abbati Saleh, son of late Justice Muhammed Dahiru Saleh and two other gentlemen-Alhaji Dogoji and Alhaji Dayyabu along Azare Kano road. Kwara and Alin Barkeji had been playing cat and mouse game for weeks until na Barkeji was shot on the leg and subsequently arrested by Kwara.
The highway robber, Alin Barkeji got a fractured leg and loss a lot of blood as a result of gun wounds he sustained following exchange of fire with Baushe. Nevertheless, he received adequate medical assistance that managed him to stay alive under police custody.
On realizing the gravity and consequences of his crimes, Alin Barkeji had to beg Kwara to spare him and promised to disclose some vital information. He left him in the hands of the police. When the curious Kwara came back to interview his guest in the morning, he found the lifeless body of the man on the ground. When he asked the police why Na Barkeji was killed, they said they gunned him down because he attempted to escape. Kwara asked the police, "how could an armless man with a fractured leg attempt to escape from police custody?"
Throughout his more than twenty five years escapade of fighting criminals, Kwara had been persistent in accusing the police as the principal culprits responsible for major crimes in Nigeria. He told late President Yar'aduwa, President Muhammadu Buhari and the Nigerian people that fighting violent crime in Nigeria would not be possible until security men who are saddled with the responsibility of securing life and property fear God and change their attitudes to work. Unfortunately, Ali Kwara's prayer for change of attitude among our security officers did not see light of the day. He died as an angry and a dejected crime fighter as such.
Such double dealings of men in uniform had made Ali to become furious and disappointed with the security collaboration. He threatened to quit working with the police to save his skin, but was advised by some respected Nigerians to reconsider his stance, exercise patience and contribute in the best way he could to the growth and development of our father land.
I had a discussion about the fate of fighting violent crime in our society after the demise of Ali Kwara with Ahmed Muhammed Kwara (Unkwunji), Ali's younger brother and successor who exhibited the same adventurous personality as his late brother.
Unkwunji had been trained by Baushe to be a brave hunter and a fearless and exceptional crime fighter too. He revealed to me during my condolence visit to their family house of his readiness to lead the operation and continue from where his elder brother, late Ali Kwara had stopped. Unkwunji and the other members of Kwara crime fighting team should be supported to continue the good work.
The late Ali Muhammed Kwara has left a huge vacuum. Criminals who suffered defeat from their clashes with him may take advantage of his absence to strike and avenge their members who were either killed, maimed or incarcerated. In this unusual period of our existence as a nation, no worthy cause surpasses complementing the job of the police.
The news of criminals in Jos prison and other places jubilating over the death of Kwara is worrisome and should be of concern to all of us. Hardened criminals and their accomplices who have been sending threats of attack to late Ali Kwara are vindictive people whose warnings should be taken seriously.
The celebrated and fearless Legendary hunter, vigilante leader and crime fighter who criminals fear more than the police died in Abuja hospital on November 6, 2020, after a brief illness. A presidential jet accompanied by a ministerial delegation conveyed the remains of late Ali Kwara to his hometown, Azare in Bauchi state for formal entombment.
The family of Muhammed Kwara should take solace in the unprecedented crowd of sympathizers who took part in the funeral prayer of their son, escorted the body to Azare cemetery and President Muhammadu Buhari's letter of condolence.
The letter which was signed by Mr. President himself condoled the bereaved family on behalf of the government and people of Nigeria: " I will like to assure you that your father will never be forgotten by the people of Katagum and by many others throughout the country whose life he positively touched and whose environment he made safe."
Nigerians will remember Ali Kwara for the unusual sacrifices he made throughout his life so that we enjoy security of life. Ali Kwara has paid his dues. We are indebted to him. May the Almighty Allah reward him with the best of His rewards.
Saleh Bature is an acting Director/zonal coordinator, North East, National Gallery of Art Bauchi. You can reach him via e-mail at [email protected]