Obigbo Killings And Governor Wike Of Rivers State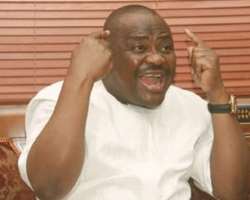 Obigbo Killng is one action too many squarely resting on the shoulders of Wike, the Governor of Rivers State. Before I continue, the place is called Obigbo in typical Igbo language , and not and never Oyigbo or Onigbo or Ohigbo. Obigbo in Igbo language means , heart land of Igbo. So, Obigbo is Igbo heartland . Wike called in the Military who went beserk , killing anybody they saw, especially males, on the guise of being members of Buhari-banned IPOB. Wike went extra mile by announcing that Ikwere is not Igboland. The later grandstanding is not an issue because if Ikwere people like, they can be from Benin or anywhere they claim they come from. I am a proud Igbo person, and there is nothing Igbos are deriving from Ikweres specially, that is not found in Igboland. Oil which is their main ego, is found everywhere in Ngwaland, Ukwaland, Etcheland, Anambra and Imo. So, oil is not the prerogative of Ikwere people. Let them be a separate tribe like Igbo, the better for Igbo even.
On the main issue of Obigbo killing, Wike cannot exonerate himself from the bloodshade. He called in the military , personally and personally, and he cannot succeed in denying it no matter how he tries. A snippet of information says that Wike was promised Vice Presidency to act the way he did. Be that as it may, we are not the better for it as Igbos , and Ikwere tribe is not either. After the clear killing to the tune of more than 100 Igbos of Obigbo, and sensing the grave repercussion, Wike started using media to be brushing his image, to be denying that he could not have done such a thing. Speak that to the dogs, Wike called in the army that killed more that 100 Igbo people at Obigbo.
As for the visit of Eastern Governors to Wike, there can never be more preposterous visit than that. The Eastern Governors acted on their unhistoric minds in that visit. Unhistoric in the sense that they never resorted to history of the war to find out how Ikweres treated the Igbos as well as the abandoned property saga. They could have known that an average Ikwere person does not , and cannot believe in Igbo cause and course throughout his life time. They visited Wike nonetheless, but Wike gave them the backlash by shouting to their hearing that he would not allow ANNEXATION of any part of Rivers State. Now I ask - what is annexation here? Who is annexing Ikwere land? What has annexation got to do with the killing of Igbos in Obigbo? That tells you the same unchangeable mindset of Ikweres in relation to Igbos. That visit is one most unreasonable visit too many to be undertaken by Igbo
Governors. They will live to regret it in their lives. Summarily, that Wike called in the Nigerian military to kill more than 100 Igbos at Obigbo in Rivers State , is clear and indubitable, and a killer of human being can never go unpunished.
One the area of forming a committee to look into the killing, it is being veritable to do so as it involves life. But the committee to be formed has to include three p[arties :
The families of people who lost their members in the killing , Ohanaeze Ndigbo as well as the government of Rivers State. The people that lost their loved ones must be present for relief to be completed.
On the side of compensation, no amount can equal life. But to address the issue on the balance wheel of compensation, it is only being veritable for the family of each person killed to receive not less than ten million naira (N IO, OOO, OOO) from Rivers State Government.
From Comrade Kindness Jonah, Convener, Voice from the East-VEAST
Disclaimer:

"The views/contents expressed in this article are the sole responsibility of the author(s) and do not necessarily reflect those of The Nigerian Voice. The Nigerian Voice will not be responsible or liable for any inaccurate or incorrect statements contained in this article."