DON'T DERAIL, JONATHAN URGES ECOWAS NATIONS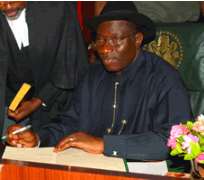 President Goodluck Jonathan
President Goodluck Jonathan has charged member states of the Economic Community of West African States (ECOWAS) to not only focus more on the original objectives of the organisation but also give greater attention to adoption of economic measures that would make positive impact on the lives of people in the sub-region.
In his address in Sal, Cape Verde, Jonathan said that the adoption of the measures were urgent and will contribute to peace and political stability, which majority of member states have attained.
Speaking at a pre-summit meeting with President Pedro Pires of Cape Verde, Thursday ahead of the 38th ECOWAS Summit, which opened yesterday, President Jonathan, said that the summit provided the leaders with a historic opportunity to refocus on the founding fathers' vision of regional economic integration and development.
He said: 'The vision of our founding fathers was for the rapid socio-economic development of the sub-region. In past years, internal crises regrettably forced us to spend more time on their resolution rather than on issues of economic development.
'Now that such crises are much less, we must focus on improving the lives of our people and I believe that this summit should be a historic turning point at which we will begin to put crises aside and focus more on economic development.'
President Jonathan, who presided over the 38th Summit in his capacity as chairman of the ECOWAS Authority of Heads of State and government, said he was happy that the summit's agenda, which includes key presentations on infrastructure and economic development, was in keeping with the need to move the sub-regional body towards the speedy attainment of its original objectives.
He also welcomed the Special ECOWAS-Brazil Summit, which follows today, agreeing with President Pires that the envisaged partnership between ECOWAS and the emerging South American economic power was bound to be mutually beneficial.
Jonathan thanked the government and people of Cape Verde for hosting the two summits, assuring President Pires that the arrangements and facilities, which have been provided by the small island nation, were quite adequate.
In his remarks at the meeting, President Pires had thanked Jonathan for personally leading Nigeria's delegation to the summit, saying that his participation would add great value to the discussions.
He also expressed the hope that all issues, which will be placed before the ECOWAS Heads of State and Government at the 38th Summit, will be successfully resolved.