ISUZU BUILDS VEHICLES WITH CUSTOMERS IN MIND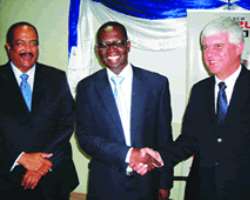 L-R: Lourencon,Arenyeka and Moorman,at the event
One of auto world's biggest manufacturers, General Motors, says it has discarded the toga of conservatism in its product offering, and is becoming more aggressive in various markets, with emphasis on giving its customers what they want in terms of vehicle design, performance and features.
This hint on the new focus of the auto giant was dropped by the visiting Managing Director of GM Africa, Edgar Lourencon, and Edward L. Moorman, Director-General, GM Regioanal Marketing Office, Cairo, Egypt, who were guests of GM Nigeria, Lagos, where they hailed Isuzu, one of the marques in the GM family, as a very strong brand.
Laurencon who was unveiled to the motoring press by the Managing Director of GM Nigeria, Mr. Anthony Arenyeka, as a new member of the Nigerian company's Board of Directors, remarked, 'GM is now aggressive; the issue of being conservative is an image of the past. Now, we are targeting the customer and his needs. We design, build and sell products with the customer in mind. We are focusing on appealing products. Safety is also another salient strong point of the vehicles we are making today'.
Describing Nigeria as 'a huge market with great potentials', L:aurencon disclosed that a long relationship with GM Nigeria, marketer of a wide range of Isuzu commercial vehicles, would be enhanced towards launching new products in tandem with the needs of the Nigerian buyers, in addition to offering satisfactory after-sales support with emphasis on training.
'The year 2009 was challenging for GM globally, it was a very critical moment in our over 100 years history', the new GM Nigeria director stated, adding 'last year, our market share in Nigeria was 6 percent, and we are focused on growing the business by offering our customers the best alternative in products and service'.
Speaking specifically, Moorman disclosed that no fewer than three Isuzu passenger cars would be launched into the Nigerian market by GM Nigeria, which is also expected to expand its present commercial vehicles range with new products.
Edgar Lourencon (53) was born in Sao Paulo, Brazil. His career with General Motors began in 1977 when he joined GM Brazil as an Engineer in the Manufacturing Engineering Division. In 1978, he completed his Bachelor degree in Production Engineering at the city's FEI University and was three years later awarded his Masters degree in Business Administration from the Mackenzie University.
Between 1992 and 2004, he held various positions in Brazil, Chile Bolivia and Peru, before moving to South Africa on November 1, 2009 where he assumed his new role as the President and Managing Director of GM Africa. He reports to Tim Lee, President of GM International Operations (GMIO), and is a member of the GMIO Leadership Team.
Lourencon was also member of SAE (Society of Automotive Engineers) and IQA (Automotive Quality Institute) in Brazil. During his time in Chile and Argentina he served as board member of the US Chamber of Commerce (AmCham).