"You are not from Niger Delta" - BNL Tells Wike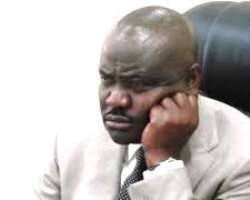 Biafra Nations League, BNL, has urged the Rivers State Governor Nyesom Wike to reconcile with his Igbo brothers and stop parading himself as a Niger Deltan. Dismissing claims by the Rivers State Governor that his names are not Igbo names and that he is not from Igbo, the Deputy National Leader of BNL, Ebuta Takon Akor said that the Igbo people in Rivers State are using the Igbo identity denial to continue to Govern Rivers State.
He said that the Delta Igbo and Rivers Igbo are part of the South Easterners. The Ejagham born Biafra agitator stated this today while addressing reporters in Ikom, Cross River State. He recalled how a former Governor of Rivers State, Peter Odili was not allowed to represent the Niger Delta in the Presidential race during Obasanjo regime. It was because of a campaign sponsored by the Ijaw leader Chief Edwin Clark that Peter Odili is an Igbo man. "After listening to Wike during his interviews with Dele Momodu I found out that he is purposely denying his roots including claims of not knowing Nnamdi Kanu's name.
Reacting to Wike's instances that some Edo bear Yoruba names, Ebuta said "It is true that some Edo bear Yoruba names and those are the Yoruba carved into Edo like Akoko LGA, we also know that the Istekiri in Warri are Yoruba but because they are in Delta they deny being Yoruba, so are the Igbo people in Delta and Rivers State hiding their identity because of politics of the States they're??
Has Wike forgotten that Peter Odili was not allowed to represent South South during Presidential race in 2007 because he is an Igbo man?"
BNL said Wike could suffer the same faith as Peter Odili if his purpose of denying his root is to pose as a top Niger Delta Leader, Ebuta recalled how Clark organized a Congress in Calabar where he invited the Bakassi people telling Cross Riverians not to support Odili as an Igbo man in Rivers State, "My grievances is that when it will favor the Igbo they will start politics of hate, they will say we are South South and they're South East, but when the Igbo support is needed they will start claiming to be Igbo like Goodluck Jonathan".
The BNL Deputy Leader said the only Igbo Politicians he admire in the South South is Chibuike Amaechi and Peter Odili, adding that Odili's political ambition was frustrated by Edwin Clark, while Wike is trying to frustrate Amaechi who has maintained his stand as an Igbo man, the group challenged Wike to publicly say what he has done in Oyigbo and entire Rivers State, adding that major roads in the state including federal roads were tarred by Amaechi.