Presidential Task Force (PTF) certifies NYSC Orientation Camps COVID-19 Compliant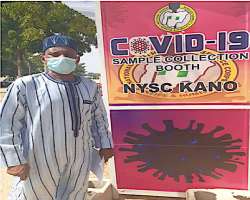 Covid Sample collection station at the Kano Camp
The Presidential Task Force (PTF) on COVID-19 has certified the NYSC Orientation Camps across the country as COVID-19 compliant and ready to welcome prospective corps members.
PTF Infection, Prevention and Control (IPC) focal persons visited the Orientation Camps in all 36 States and the FCT and worked with NYSC and State Health officials to ensure the readiness of the facilities across the country. NYSC camp facility requirements include COVID-19 sample collection sites, at least one ambulance, water supply and hand washing sites, adequate and well-spaced beds as well as spacing for other camp facilities.
PTF National Coordinator, Dr. Sani Aliyu stated that Federal and State health authorities are collaborating with all Ministries, Department and Agencies (MDA) to ensure the successful operation of the NYSC Orientation Camps.
"The Orientation Camps are significant in terms of COVID-19 prevention and management. The camps represent a large gathering of persons in a demographic most susceptible to COVID-19 infections. We have to ensure that everyone in these camps follow prevention protocols to protect themselves and their colleagues as well as those they will return home to." Dr. Sani stated.
The PTF has given the greenlight for the 2020 Batch "B" Stream 1A orientation programme to kick-off on November 10, 2020, in NYSC camps across the country.
With the resurgence of the pandemic in Europe and America, the PTF calls for more caution as the schools and other institutions re-open.
All NYSC officials and participants are expected to adhere to the NYSC safety guidelines which encourages participants to comply strictly with the date of reporting, undergo temperature checks on arrival, have at least two washable facemasks and wear their facemasks properly at all times. Prospective corps members are advised to observe physical distancing in all camp activities, wash their hands with soap regularly or use hand sanitizers.
Website
https://statehouse.gov.ng/covid19/