The Drive For Excellent Leadership In Healthcare Delivery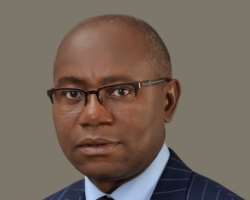 DR. EMI MEMBERE-OTAJI FNIM, DMP
Managing Director/CEO Elshcon Group Of Companies,Chairman Princess Medi Clinics Ltd &One Time Commissioner For Health Rivers State, Held At The Military Hospital's 4th Quarterly Training And Capacity Development Event, Organized By: Mhph, Quality & Service Improvement Team On 30th October 2020, At The Military Hospital Conference Hall, Port Harcourt.
Leadership is the process of influencing people and providing them an environment to achieve team or organizational goals. Leadership is a tool of managing a team, large or small, to achieve common objectives. While lots of works and books have been written on leadership, in general, not
much has been done relatively, on leadership in healthcare delivery.
In general, a leader manages human resources, physical and liquid assets, but in the healthcare system there are other additional scopes and twist, because care and empathy for the patients remain paramount.
Also healthcare systems, unlike most organizations arecomposed of numerous professional groups, departments and specialties, with intricate non-linear interactions between them; a complex web with each group's subcultures that might support, or be in conflict, with each other.
Leadership at all times therefore needs to capitalize on the diversity within the organisation or system as a whole while utilizing resources when designing management processes, to nurture cultures that will ensure the delivery of, continuously improving, high quality, safe and compassionate health services. Like the bunch of broom, each broom stick has a role to play,
without which the bunch cannot efficiently and effectively
perform the role of sweeping the floor clean.
A good leadership strives to ensure direction, alignment and commitment within the team, such that there is coherence among the team members in understanding and playing their different
roles, consistent with the teams goals, cultures, values and strategies; integrating and aligning their efforts, with each member being committed and taking responsibility for the success of the organisation, as a whole.
While many leadership models are known, only a feware well suited to the healthcare setting, to optimizemanagement, in this highly complex environment.
Some of these include Leadership Models Like:--
Transformational Leadership: Where the leadersbehavior influence team members and inspire them to buy into the team's common goals, to perform even beyond their perceived capabilities. This approach is summed up in the 4 i's attributes:- Inspirational Motivation; Idealized Influence where by their conducts, leaders act as role models for the team members, with lots of charisma and ethics, such that the latter want to emulate their leaders.
Others are Intellectual Stimulation - Where leaders exhibit creativity and innovations and yet are open to new ideas and Individualized Consideration whereleaders develop a strong relationship with team members, acting as a caring supportive resource just like a mentor. Nelson Mandela and Mahatma Ghandhiwere great transformational leaders.
Collaborative Leadership: This is an assertive and cooperative process that occurs when individuals work together, communicating information to team members and associated organizations, to allow them to make their own informed decisions. It encourages many opportunities for discussions and consensus building, handling conflicts in a constructive way, while sharing accountability and control, as though all are peers, to achieve the team's common goals.
Shared And Distributed Leadership: This model encourages, shared governance, continuous workplace learning and development, and also effective working relationship, among the various healthcare professionals. It broadly distributes leadership responsibilities such that people within a team and organization lead each other – a horizontal or collective leadership, distinct from vertical or hierarchical leadership. Identifying their own capabilities, strengths and weaknesses, the leader's goal is to create an ethos, whereby individuals can complement one another, with shared, collective and extended leadership practice.
To be a great leader, certain personal characteristics can propel one to achieve good successes. Some of these include;
Rule 1: Leaders relentlessly upgrade their team, using every encounter as an opportunity to evaluate, coach, and build self-confidence. For example; you have to evaluate - making sure the right people are in the right jobs, supporting and advancing those who are, and moving out those who are not. You have to coach – Guiding, critiquing, and helping people to improve their performance in every way. Finally, you have to build self-confidence – Pouring out encouragement, caring and recognition Take every opportunity to inject self – confidence into those who have earned it. Use ample praise, the more specific the better.
RULE 2: Leaders make sure people not only see the vision, they live and breathe it. RULE 3: Leaders establish trust with candor -transparency and credit,they never score off their own people by stealing an idea and claiming it as their own. RULE 4: Leaders get into everyone's skin, exuding positive energy and optimism. RULE 5: Leaders have the courage to make unpopular decisions and gut calls - You are not a leader to win a popularity contest – You are a leader to lead. They act on their gut feelings.
Rule 6: Leaders inspire risk taking and learning by setting the example - Just because you are the boss doesn't mean you are the source of all knowledge
RULE 7: Leaders celebrate - work is too much a part of life not to recognize moments of achievement. Grab as many as you can and make a big deal out of them.RULE 8: Honesty - An honest leader inspires the team to be honest as well. By holding themselves to a higher standard, they provide a model for others to emulate and encourage clear communication. RULE 9: Abilityto delegate - Leaders can't do everything themselves, and must feel confident enough in their teams to delegate important tasks to them. A leader must be familiar with his team, able to work with their strengths and weaknesses 11 personal characteristics. RULE 10:Sense of humor - What happens when things go wrong? A leader needs to be able to bounce back from failures while maintaining a positive attitude. Their teams look to them to see how to act during a struggle; they set the tone. Humor tends to lighten the mood in the group at such times. RULE 11: Commitment - if a leader is not committed to a task, can they expect their team to be? When teams see that a leader is committed – staying extra hours, doing unpleasant work, etc. – it creates an encouraging atmosphere in which people want to do their best. Commitment doesn't just include doing actual work – it also means keeping your word about anything and everything else. When a leader rolls up his sleeves, team members will likely take off their shirts.
RULE 12: Competency - Leaders should be fairly knowledgeable in the tasks involved with a project, enough to train and guide team members. The best leaders are those who are able to adapt to new conditions while still producing good quality work.RULE 13: Ambition - if a leader does not seem motivated and involved with their work, their team will not much care about producing the best product possible. A lea der who is always striving to be better, in a bid to improve the quality of their work, will impress their team and encourage them to set higher goals. RULE 14: Leaders acknowledge that mistakes or failure can often be as good a teacher as success.
In summary, there is a clear nexus between leadership and a range of important outcomes, within the health systems, including patient satisfaction, patient mortality, organizational financial performance, staff well-being, engagement, turnover and overall quality of care. The challenges of healthcare organizations are too great and too many, for leadership to be left to chance or fads. With good leadership, healthcare organizations can face the future, and continually deliver and improve on high quality and compassionate care, that they are envisioned to so do, especially in these days of volatile, unstable, complex and ambiguous (VUCA) environment, with often unexpected turbulence and disruptions.