Why Desmond Elliots Should Endeavour To Be A Daniel In Politics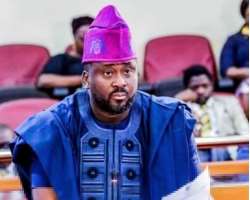 There's no question that the past few weeks in Nigeria, particularly on the virtual space, have been one of the most prickly political spikes for Desmond Elliots, a Nollywood actor, and now the lawmaker representing Surulere I State Constituency in the Lagos State House of Assembly, for blaming celebrities and social media influencers for the violence that erupted in the aftermath of the #EndSARS protest in the state.
Against the foregoing backdrop, it is pragmatic to say that most political observers across the country, including this writer, were not in any way taken aback by Elliots' position on the issue as there was a strong indication that he has since the last political dispensation been dinning and winning with those that are considered to be archetypal politicians, and therefore couldn't have spoken against their ostensive unanimous agreement to regulate or ban the social media space.
There is no denying the fact that most politicians are wont to kowtow to the selfish directives of their "Godfathers" rather than kowtowing to the expectations of their constituents. To this end, it is expedient to ask, what is it that the people will expect from a politician who on a soapbox in Benin City last month boasted that he is a product of "Godfatherism?" There is nothing to be expected from such politician as he has ostensibly being blindfolded by partisanship to fulfill the biddings of his political Godfather. This was exactly what one can make out from the pedestal Desmond Elliot stood on during the campaign ahead of Edo election that was conducted in September 19, 2020 when he said, "I'm a product of godfatherism" as he heaped praise on Asiwaju Bola Ahmed Tinubu.
If he has been mindful of the fact that God exists, he would have in his utterances, may be in his conducts during times like this strive to ensure that the concern for the collective voice of the youths matters; and not calling for it to be stifled. If he truly cared for the youths he would have in his speech be circumspect enough considering the fact that some youths were cut short in their at Lekki Tollgate; even while waving the national flag and singing the national anthem as reported in the media. It would at this juncture be recalled that Desmond Elliot in 2015 in his bid to run for his present seat in the Lagos State House of Assembly under the All Progressive Congress (APC) released his political manifesto for the general elections, reports where he revealed that his manifesto would cover sports development, a widows aid program and health care for the elderly, nursing mothers and children.
If I may ask, if by now he has been unable to fulfill his manifesto despite being in his second tenure, how can he remember the wellbeing or rather the plight of the youths in the house. Though it is expedient to say that he never directly called for the regulation or banning of the social media space but his debate in the house provided the bases for doing so.
Against the foregoing backdrop, it cannot be pooh-poohed that Elliot has seen the worst of times in his nascent political career since he made the comment that has now become his Achilles heel. His faux pas notwithstanding, the Book of Daniel has a lot to tell him about living victorious lives as God's child in a troubled political landscape.
At this juncture, it is expedient to make reference to the book of Daniel which is one of the most exciting and captivating books in the Old Testament. Without any iota of exaggeration, being a Christian, I am of the view that Elliot must have studied about the Jewish captivity in Babylon through the example of Daniel and his three friends in the bible. He must have read about their faithfulness to God during the season and the dangers they encountered because of their commitment.
It is germane to point out at this juncture that the more deeply the book of Daniel is dug into that the more its recipe on people-oriented governance and the fear of God comes to the mind. To this end, the following are the five lessons that Elliot need to learn from the book of Daniel during this political season to enable him realize always that there is God.
Without any iota of exaggeration, the subtext of Daniel's entire story is about faithfulness to the one true God.
It starts in the very first chapter when Daniel refuses to compromise his dietary restrictions with the king's rich food (Daniel 1:8–16). It continues when Daniel's friends—Shadrach, Meshach, and Abednego—refuse to bow down and worship the gold statue that king Nebuchadnezzar had erected on the plain of Dura (Daniel 3). It also see it in Daniel's defiance of King Darius's law against prayer (Daniel 6).
Despite the fact that their rebellion could have cost them their lives (Daniel's three friends were tossed into a furnace for their disobedience, and Daniel was literally thrown to the lions), they refused to compromise—and God delivered them.
It's important to remember that throughout history God's people have consistently found themselves in a messy situation where they were in the minority, and they had to choose faithfulness despite strong pressure to conform. To my view, any politician in government that is a product of Godfatherism, and affiliated to the Christendom don't need to fear any Godfather or political outcome, because his God is always with him through Jesus Christ, our Lord.
It is not just Daniel and his friends' refusal to compromise that's amazing; it's the respectful way in which they did so. They weren't difficult and combative, and they didn't stir up dissension. They just followed their convictions. In this nexus, it is expedient to ask, "Why can't Elliot resist the pressure from whoever in his party (APC) that must have pressurized him to make such contribution that is flagrantly directed at stifling the collective voice of the youths?
It is important to note at this juncture that through king after king that Daniel maintained a role of extreme significance and importance. It can't be denied that God's influential hand was upon him, but Elliot also need to recognize that Daniel and his friends were able to maintain their principles and their respect. God was able to do some dramatic work through Daniel's faithful and humble service and witness.
Not just about Elliot in this nexus, no matter how things go in our country, politicians have the responsibility to stand firm in their convictions in a way that's respectful and kind to those who might not agree or understand. It's in that tension that God will use them as witnesses to His grace and mercy in Christ. Against the backdrop of the foregoing, he had the opportunity of speaking the truth during his contribution in the house but he chose to play to the gallery of partisanship.
Elliot should not forget that God is always at work, particularly when he engages in leadership activities that are focused on the wellbeing of the people he was voted to represent, particularly the people of Surulere I State Constituency.
It would be recalled that the prophet Jeremiah had prophesied of Israel's coming captivity in Babylon: "Behold, I will send for all the tribes of the north, declares the Lord, and for Nebuchadnezzar the king of Babylon, My servant, and I will bring them against this land and its inhabitants, and against all these surrounding nations. . . . This whole land shall become a ruin and a waste, and these nations shall serve the king of Babylon seventy years" (Jeremiah 25:9, 11).
Even though Israel was being disciplined, God was still at work using the influence of faithful Jews like Daniel to turn the hearts of pagan kings. With God's help, Daniel was able to influence these kings as a prophet, as an advisor, and even through conscientious resistance.
Desmond Elliot, my advice to you in this context is that in a day and time like this when politicians like you are viewed with disdain and associated with crookedness and insincerity, it is expedient you begin to look at Daniel, a Jewish scholar, prophet and a political leader in the Scriptures, in the most turbulent time in world history: and how you, as a modern political leader, can emulate or learn from him. Cease from dancing to the tune of political Godfathers. Remember that, when the chips are down or rather when you leave politics to go back to your first love; Nollywood, that you be surprised that there would be no one to work with as professional colleagues as you are not speaking the truth as a good leader that was massively voted for by the youths. the ignoble reputation you may ingloriously earn from politics may smear your reputation in the Nollywood.
Recall that in the last election that gave you the opportunity to be in the Lagos State House of Assembly where you stood in the hallowed chamber and told the youths about what they already know concerning the social media space that you won with 15,357 votes, while Mr. Benjamin Olasunkanmi, candidate of the Peoples Democratic Party, came second with 3,628 votes. If I may ask, which demographic segment of Surulere I do you think mostly voted for you during the election? The answer is unarguably those that are subscribed to the social media platform, and who you invariably reached out to through the same plaform.
Disclaimer:

"The views/contents expressed in this article are the sole responsibility of the author(s) and do not necessarily reflect those of The Nigerian Voice. The Nigerian Voice will not be responsible or liable for any inaccurate or incorrect statements contained in this article."
Articles by Isaac Asabor