ZONING: LET BARACK OBAMA BE PRESIDENTÂ 'AT LARGE'Â FORÂ NIGERIA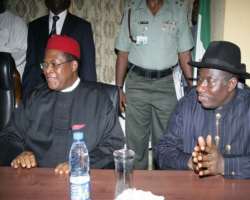 PHOTO: R-L: PRESIDENT GOODLUCK JONATHAN AND PDP NATIONAL CHAIRMAN DR OKWESILIEZE NWODO.

Nigeria, in reality functions as a Tribal Democracy. But for the sake of political accommodation amongst other nations, and by appearance Nigeria continues to present as a Presidential or an Executive Democracy, at least since 1999.
Amongst the Nigerian political parties, include the often over-looked Action Congress (AC), and the current dominant party, the Peoples Democratic Party (PDP) where President Goodluck Jonathan holds membership.
But all is not well with the PDP as its management partly revolves around the ideas of a Tribal or Ethnic Democracy. In this regard, the PDP Presidential period in office is based on rotation.
The case of a Southerner or "Yoruba man is different because there are no opportunity for the Eastern/Igbo man, Edo/Ishan man or a woman), becoming a President through a declared 4 by 4 rule, belief or principle.
The first major beneficiary of this rule was Olusegun Obasanjo of Ogun State. He fulfilled this so-called gentleman tenet between 1999 and 2003, and again between 2003 and 2007. He even tried to make it 4 by 4 by 4 or stay in power for twelve years according to his accusers in the media.
On the other hand, the Northern half of the country will next produce an individual, and the northerner will occupy the presidency, again through the 4 by 4 gentleman agreement. Umaru Musa Yar'Adua of Katsina State began satisfying this role in 2007 but the wicked jaws of sickness snatched him in his first four years in office, without making it to the year 2015!
Now, political anxiety has set in and this is not a good thing as different PDP elites are reacting in ways only peculiar to and in a tribal democracy.
A former national Chairman, Audu Ogbe, a Northerner, reminded the now feuding PDP leaders that he was the one that presided over the convention that gave birth to the zoning and rotational arrangement in December of 2002. At which time 47 votes out of the 51, fully supporting the ethnic based agreement, as evidenced in article 7, subsection 2c of the PDP constitution.
Chief Tony Anenih of the South agrees that there was certainly a gentleman agreement but the agreement has since suffered from disrespect over the years, from some leading PDP Northern and Southern leaders.
An Easterner, Dr Alex Ekwueme the first Vice-President of Nigeria has noted the North and South rotational arrangement should remain a reality, and he rebuked former President Olusegun Obasanjo of the West for ignorantly debunking and dismissing the arrangement.
Prince Vincent Ogbulafor of the East and a very recent national chairman of the PDP had opined that the agreement must be followed to the benefit of the North, and in no time an old 2001 criminal wrongdoing was not only reportedly revived, he also lost the PDP Chairmanship through resignation.
A former Vice President, Atiku Abubakar stated that not to continue with the presidential rotational pact could destabilize the nation.
As to the current President, Dr Goodluck Jonathan of Niger-Delta, who is fully at the center of this whole disorientation or confusion, recently stated that his full comment on the zoning matter will come out soon.
All these huge problems are not only confusing to the political atmosphere, but they are complicated by the fact that the Presidential election is less than a year from today. Currently, there are no published or clear defining electoral plans, no meaningful or open time table or no national debate by the contesting candidates from the different political parties have taken place. All these issues leave the political future of Nigeria in a state of uncertainty.
As a consequence, there is big worry in the minds of goodwill Nigerians and in the view of the international world, including the United States of America
Certainly, time is almost running out to set up an objective, non-magical, valid, transparent and credible election as it is done in established democracies. And should these zoning and anti-democratic issues remain, let the people on a de facto basis, give the presidency to the most trusted man across the world. His name is Barack Hussein Obama.
He is partly an African by recent ancestry, and he is generally a Black Being. And above all, he is the President of the United States of America. Also, he is the current leader of the free world.
During his visit to the motherland in July of 2009, to Ghana especially, in his capacity as an ancestral son of Africa, he rebuked some African leaders for being the worst enemies to the people given the corrupt, incompetent and lawless environments the people find themselves, Nigeria being one of the principal perpetrators.
In a bold and brotherly way, he has blasted the corrupt leadership in Africa, as the chief source of poverty and wretchedness in places like Nigeria.
As if he was speaking to the Nigerian people directly, while in Africa, he stated "No person wants to live in a society where the rule of law gives way to the rule of brutality and bribery. That is not Democracy; that is Tyranny, even if occasionally you sprinkle an election in there. And now is the time for that style of governance to end."
Obama knows that Nigeria is one of the largest oil producing and supplying countries to America, so he certainly knows how to redistribute the monies to better the institutions and the people.
As a world leader and an African, at least in part, he is legitimately, passionately and with no inhibitions right to condemn the on going mess in Nigeria. Obama like Jonathan knows that difficult months lie in front of Nigeria, and no matter how cool and strategic Jonathan is, the world has yet to see that forceful, dramatic and bold move to effectively bring corruption to its lowest points, such as coming out to openly initiate policies that support measures like special courts or death penalty for high level corrupt villains.
It is time to see an angrier and combating leadership against all forms of economic, political and security insults in the nation.
Obama, as part of his dual loyalty to rebuilding different places, including Nigeria could help set the political process towards national sanity as he is no way beholden to no one.
Asking Obama to serve as a de facto and at-large President, for at least one year, should not be seen as an affront or unusual, as it is not long ago that the Ghana President, John Atta Mills stated to Obama, his wish: " to send you to every home in Ghana". So let the all out invitation commence fully and realistically in Nigeria, as it could take some years to settle the ethnic, religious and regional sentiments that now surround the North and South leaders.
What the people need at this time are not just strong men or women but strong individuals to help build strong institutions, improve governance, solidify democratic practices and fully manage the economy. Let that person be Barack Obama.
John Egbeazien Oshodi, Ph.D, is a Clinical/Forensic Psychologist and the Interim Associate Dean of Behavioral Science, North Campus, Broward College, Coconut Creek, Florida. [email protected]
Disclaimer:

"The views/contents expressed in this article are the sole responsibility of the author(s) and do not necessarily reflect those of The Nigerian Voice. The Nigerian Voice will not be responsible or liable for any inaccurate or incorrect statements contained in this article."
Articles by thewillnigeria.com