Reps Crisis:Â  Female Senators Protest Assault On Doris Uboh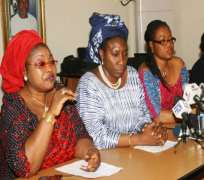 ABUJA, July 01, (THEWILL) - The crisis in the House of Representatives has continued to reverberate as Senate Women Caucus today protested against the manhandling of a female member, Hon. Doris Uboh and warned that they would never standby and allow such 'barbaric and indecorous treatment' against the female lawmaker to be sustained.
They also want the Speaker, Hon. Dimeji Bankole and the entire leadership to review the suspension order clamped on their colleagues and ensure that Hon. Uboh is reinstated immediately.
"We are asking that Doris Uboh be reinstated immediately and the sanction be reviewed. It was even most painful when we realized that she was not even a member of the progressives. The hallowed chamber was subjected to disgrace. We believe Doris Uboh acted rightly as a mother and one who felt that the hallowed chamber was being disgraced and ridiculed. It is unacceptable to us the action was primitive and lacked decorum", they declared.
Addressing a press conference, Senator Chris Anyanwu (PDP, Imo) flanked by Senator Iyabo Obasanjo-Bello (PDP, Ogun), Senator Nkechi Nwaogu (PDP, Abia) and Senator Folashade Grace Bent (PDP, Adamawa) said, "they watched with dismay the event that transpired in the House of Representatives last week Tuesday during, which several members were beaten up, had their cloths torn and even a female legislator, Hon. Doris Uboh, hamstrung and dragged out like a common criminal.
"She said the manner in which this was done was most unacceptable adding that the whole world over, people watched with disgust as this woman was dragged by one man, aided by a woman.
"She had earlier been pushed and she fell on the stairs of the chambers. Our position is that she could have been allowed some modicum of dignity and respect by walking her out of the chambers in a more decent manner by two female Sergeants-at-arms.
"Nowhere in the world would it have been considered an appropriate action to physically drag a female legislator.
"At a time when the Inter-Parliamentary (IPU) is pressing for gender partnership in all aspects of governmental life; at a time when the UN is preaching against violence targeted at women in politics and urging nations to increase the level of women representation in their parliaments, Nigeria cannot afford to engage in acts that paint the picture of a hostile environment for women," she said.
Senator Anyanwu further stressed that "at the moment, there is an iron-cast bulwark against women's full inclusion in politics and "the few of us who have managed to slide through the cracks, have to struggle against aged traditions and attitudes. The assault on Doris Uboh and her humiliation is a set back on the drive for women's advancement. It is an affront on all Nigerian women and especially women parliamentarians".
"While we do not condone irresponsible conduct, we feel the situation could have been better handled by applying greater restraint. And we urge all leaders, especially leaders of all legislative houses to apply this restraint and give respect to their female members. We urge all women in government to endeavour to observe decorum and play mediatory and progressive roles," she added.