Obasanjo disowns Bankole says I had no serious conversation with him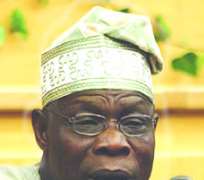 Olusegun Obasanjo
Former president, Olusegun Obasanjo, Tuesday said he did not have any serious discussion with Speaker Dimeji Bankole on Tuesday in Lagos.
A statement signed by Adeoba Ojekunle, Mr. Obasanjo's special assistant, stated that contrary to media reports, the meeting at the Presidential Wing of Murtala Muhammed Airport "was an inadvertent development and not a secret or 'closed-door' meeting." The statement specifically referred to a newspaper report which claimed that the former president and the Speaker of the House of Representatives discussed behind closed-doors at the airport.
"While General Obasanjo was waiting for a private plane to convey him to Kinshasa yesterday, June 29, 2010, he and honourable Speaker Bankole happened to be at the Presidential Wing of the airport together," said Mr Ojekunle. "At the chance meeting, the honourable speaker greeted General Obasanjo as a son would greet his father, and General Obasanjo also responded accordingly, as a father would greet his son. There was neither a closed-door meeting nor discussion of any issue.
Mr. Ojekunle, however, said that the speaker must have visited Lagos to attend a meeting, or was on another appointment, and not necessarily to have any discussion with Mr. Obasanjo. "General Obasanjo was not part of such meeting and the nature of such meeting is not known to him," he stated.
Mr. Obasanjo, who arrived at the airport 20 minutes after the speaker landed at the VIP tarmac from Abuja on a Nigerian Air Force (NAF) aircraft, headed straight to the airport lounge without saying a word to journalists. Mr Bankole, who had been in Lagos since Friday, left for Abuja on Monday only to return at about 2.30pm