CHINA'S MANUFACTURING GROWTH SLOWS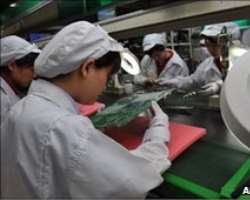 The pace of growth in Chinese manufacturing slowed in June, official figures show, as government efforts to cool the property market and curb bank lending seemed to take effect.
The Purchasing Managers' Index fell to 52.1 in June from 53.9 in May.
But the figures suggested the sector was still expanding rather than contracting.
Observers said the data suggested that the faltering global recovery was affecting China's output.
"The Chinese economy is cooling down, and the export and import sector is the first to feel the pinch," said He Yifeng, an analyst with Hongyuan Securities in Beijing.
A separate survey compiled for HSBC fell more steeply to a 14-month low of 50.4 from 52.7 in May. Anything above 50 shows an expansion.
"The moderation in the manufacturing PMI implies slower sequential growth in China's manufacturing sector, partly due to the tightening measures taking effect," said HSBC chief China economist Qu Hongbin.
But he said that fears about the economy slowing too quickly were "overplayed".
Beijing has taken steps to slow the pace of economic growth, including reining in credit, as well as slowing the property market by insisting on larger down-payments on new homes and making it harder for investors to buy several homes.