Ecobank Reaffirms Commitment to Excellent Service Delivery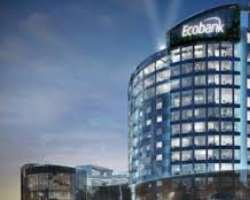 Lagos, October 7, 2020 - Ecobank Nigeria has reaffirmed its commitment to providing excellence in customer experience in all its interactions through its Customer Experience Transformation Program. Head, Customer Experience, Olubunmi Otunigagave the assurance in a statement to commemorate this year's International Customer Service Week, holding between October 5 and 9, themed, "Dream Team", which highlights the importance of teamwork in providing outstanding service to all customers at this challenging period.
According to her, "This is another moment to celebrate our customers. We will always celebrate you. You are the reason why we are in business. We seize the opportunity of this event to re-affirming our commitment to providing excellence in customer experience in all our interactions with you. The theme reflects the importance of teamwork in consistently providing outstanding service at all our touch points. This is what we represent in Ecobank. Your dream team celebrates you. Thank you for choosing Ecobank."
She observed that this year's event is quite significant, as it coincides with the time the world is being ravaged by the coronavirus, stressing that prior to the period, the bank had invested significantly in technology. "We have provided the Mobile App, Ecobank Online, Ecobankpay, Ecobank Omni, Omni-lite, our *326# and our express point agencies are deployed to effectively meet your needs at all times. We enjoin you to take advantage of them. The whole idea is to be able to serve you, whatever the situation and this has been proven right during this pandemic period."
Mrs Otuniga disclosed that several activities had been lined up for the week. These include: "Digital promo where customers double their recharge by buying airtime via the mobile app or USSD code between 5pm and 6pm during the period; appreciate a back office colleague, team or department who have consistently displayed exceptional customer service attributes; standard greetings by all staff and security personnel at our locations to all customers with Happy Customer Service Week. Ecobank ,The dream team celebrates you and Career Day where staff are to dress up to represent a profession other than banking, adding that "nominated senior management staff will be at all operating branches for a day to support our front line colleagues."
DISCLAIMER: This email and any attachments are confidential and are intended solely for the addressee. If you are not the addressee tell the sender immediately and destroy it. Do not open, read, copy, disclose, use or store it in any way, or permit others to do so. Emails are not secure and may suffer errors, viruses, delay, interception, and amendment. Ecobank and its subsidiaries do not accept liability for damage caused by this email and may monitor email traffic.
Ce mail, y compris toute pièce jointe, est confidentiel. Il est exclusivement adressé aux destinataires désignés. Si vous le recevez par erreur, veuillez immédiatement aviser l'expéditeur et détruisez-le sans l'ouvrir ni le lire. Toute copie, diffusion, conservation, utilisation sous quelque forme que ce soit ou l'autorisation de toute personne à le faire est interdite. Le mail n'est pas un moyen sûr et peut contenir des erreurs ou des virus, comme il peut être retardé, intercepté ou modifié. Ecobank et ses filiales déclinent toute responsabilité pour des dommages causés par ce mail et se réservent le droit de contrôler la circulation des mails.