Gov. Zulum Inaugurates More Idps Relocation Committees For Marte, Ngoshe, Kirawa Towns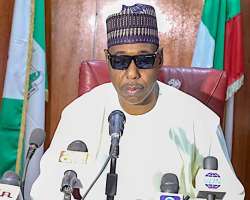 Governor Babagana Umara Zulum of Borno State on Monday inaugurated two committees to complete the ongoing reconstruction work as well as facilitate full restoration of civil authorities comprising police and other security outposts/ stations, civilian joint task force, JTF, local government offices, palaces and magistrate courts among others in six towns located in Marte and Gwoza local government areas of the state.
The terms of Reference of the two committees, which have security officials among them as members, are to undertake resettlement at Marte in the northern part of Borno state as well as Ngoshe, Kirawa, Hambagda, Ashigashiya and Warabe in Gwoza local government area of southern Borno, after all safety measures and essential public services are put in place.
The committee on Marte is chaired by the Borno state Commissioner for Reconstruction, Rehabilitation and Resettlement (RRR), Engr Mustapha Gubio while that of Gwoza LGA is chaired by the Borno State Commissioner for Housing and Energy, Engr Yuguda Saleh Vungas. Members also includes representatives of communities and humanitarian actors.
The governor who stated this at the Government House, Maiduguri said: "The committees are to continue with rehabilitation and reconstruction work in Marte and Kirawa /Ngoshe, to undertake palliative repairs of Marte and Ngoshe/Kirawa roads in collaboration with the men of the Nigerian Army.
"To put in place all requirements that will ensure safety of lives and properties of returnees, to facilitate the establishment of civil authorities on ground, to identify IDPs willing to return home and to address any other matter that is incidental to the smooth return and safety of lives and properties of the returnees", Zulum said.
He further explained that the state government resettlement drive was aimed at helping citizens pick up the pieces of their lives and move on after many years of displacement.
The Governor assured that Government will help the returnees to engage in agricultural and other economic activities that will make them self-reliant and be meaningful members of the State.
Gov. Zulum also decried the high level of poverty in Borno, particularly within the IDPs, which he said insurgents took advantage of to recruit many able bodied youths in the state.
The governor told the committees that he was very mindful of the security situation in the state and therefore tasked the committees to carry out their duties without haste and not to force the IDPs.
"We should not be in haste, we should not force anyone to return. There is an increasing demand from the IDPs to return home, don't force anyone" Zulum said.
Responding on behalf of both committees, Engr Mustapha Gubio assured that they would put in their best in discharging the assignment.
Meanwhile, the governor commended Baga committee for setting good precedent as well as the military for supporting the resettlement drive.
He directed the committee to liaise with the army to see the possibilities of returning people to Mairari and Kareto.