I will end US-China trade war if elected WTO DG: Okonjo-Iweala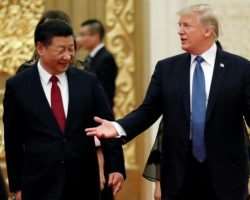 A former Minister of Finance, Ngozi Okonjo-Iweala, has said that one of her focal agenda will be to end the trade war between the United States and China if elected the Director-General of the World Trade Organisation.
The trade war between the two economic giants has reverberating consequences on global economy and distort growth trajectory of the weaker economies.
Okonjo-Iweala insisted that she was the best candidate to end the US-China trade war, which have seen both countries imposing high duties on goods that come from each other's economy.
Iweala-ala said that based on reforms that she had Implemented in some of the positions that she had handled she is confident she would be able to achieve breakthrough in the tough task of ending the trade conflict. .
Okonjo-Iweala is the current chair of the board at GAVI, the vaccine alliance, and she believes that her current work gives a significant edge for the post of the WTO in this era of the pandemic
According to the Okonjo-Iweala, who was a former Managing director at the World Bank,"WTO reform will be tough – but I've delivered hard reform before, including reform of countries' trade regimes. In addition to this, I'm the only candidate working at the intersection of trade and public health.
"Would you be more scared if your mother was kidnapped and held to ransom with a demand that you resign your job publicly on television – or else you would not see her alive – or if you said to the US and China, you have to bridge your differences?
"It's going to be a tough task but you can't compare it with what I've had to go through."
On her chances over Amina Mohamed, the Kenyan Culture Secretary, Okonjo-Iweala said she was the only candidate currently in public health and trade.
"The WTO has to be part of the solution to the COVID-19 pandemic. The WTO has rules on how, in a public health emergency, you can invoke the possibility for countries to license products and produce them to make them more affordable and accessible," she added.
The selection process will be completed on November 7 with the last candidate standing who will be the replacement for Roberto Azevedo, the ex- DG of the trade bloc.